Broadcast Transformation Report: 5G Revolutionizes Broadcast Production
Which 3 technologies do you think will have the biggest impact on broadcast production in the next 5 years?
This is one of the many questions posed to broadcast professionals in our Broadcast Transformation Survey. To this question, many of the broadcasters we surveyed indicated that they believe 5G technology will have the biggest impact on their production workflows in the next 5 years. This year's data also shows that 5G adoption is already underway.  
Before we dive into the 5G findings from this year's Broadcast Transformation Survey, a reminder that more data beyond what we share here can be found in our comprehensive Broadcast Transformation Report, which you can download here! 
5G's Impact on Broadcast Production
As industry professionals seek benefits from broadcasting in 5G, 20% of those we surveyed indicated that they are already putting the technology to use and an additional 53% plan to start using 5G for their broadcast productions within the next 2 years.  
It's clear that 5G has an alluring potential to dramatically change the way that television content is produced.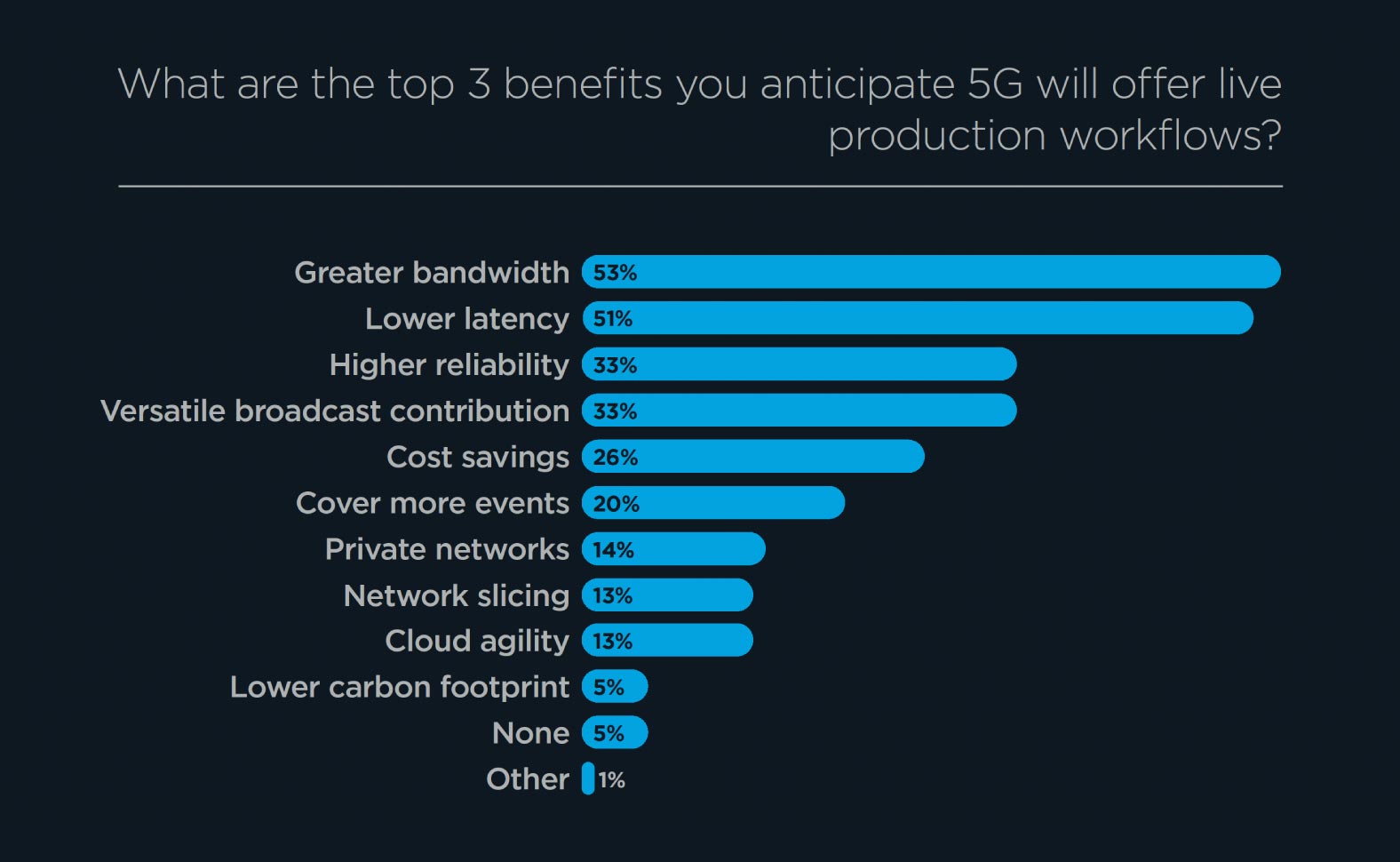 5G offers many potential benefits to broadcasters but, when surveyed, most respondents indicate that greater bandwidth is the most important. Current non-standalone 5G services built on top of 4G core networks have already doubled the amount of bandwidth available. Once standalone 5G architecture is in place with virtualized and cloud-based network cores, bandwidth availability will expand even further, enabling it to support higher resolutions, greater picture quality, and more camera angles. 
The second most important benefit of 5G for live broadcast production, as cited by our survey respondents, is much lower latency compared to 3G and 4G cellular networks. This can be leveraged in many ways; for instance, 5G can be used to enable multi-camera remote production workflows and real-time remote collaboration between camera operators, field talent, and decentralized production staff using both broadcast and return feeds over a single network connection. 
Tied in third place by a third of our respondents, broadcasters are looking to 5G for more reliability and greater versatility. Field units that support network aggregation and packet loss recovery are adding another layer of reliability on top of 5G networks. Broadcasters also seem very excited by the agility and flexibility of 5G, especially in standalone mode for private and public networks, opening up many more possibilities for live production workflows. 
With private networks, or NPN (non-public networks), mmWave (millimeter wave bands), and network slicing, 5G brings latency to even lower levels and can be used to replace SDI cables and wireless RF systems within venues, connecting cameras to OB production suites wirelessly for high-quality live video contribution.
With so many potential benefits, there will surely be amazing broadcast innovations as a result of 5G technology.