Silverdale Baptist Church
Silverdale Baptist Church uses video streaming to share their message across campuses, allowing their ministry to grow and to reach more people.
Challenge
Scaling up for International Production
Silverdale Baptist Church needed a reliable way to share their message across four locations. They had a main campus, a student ministry building being used as an overflow campus, and two remote campuses. They had initially been using another streaming service, but it had been unreliable, especially at one of their remote locations, which had a less reliable internet connection.
As a result, the technical team at Silverdale Baptist were relying on "Sneakernet," physically running over copies of files to remote campuses to distribute their message. Not only was this cumbersome and time-consuming, it wasn't scalable, which was a pretty serious concern for a ministry looking to add more campuses moving forward.
There are a lot of things to coordinate each Sunday. But thanks to the reliability of Haivision's services, streaming is not one of the things I need to worry about. It's a relief to know that I can focus my efforts on creating a great worship experience across each of our campuses.
Connecting Through the Cloud with Haivision Connect DVR

The team at Silverdale Baptist Church wanted to make a change to help better connect their campuses. That is why they began using Haivision's Connect DVR service, which is a cloud-based service for connecting multi-site ministries. Haivision Connect DVR uses time-shifted video playback so that ministries can easily share messages, in the cloud, from their main campus to their satellite campuses.
Connect DVR's bandwidth efficiency has meant that streams could be reliably sent out, from the main campus to their three other locations, regardless of the internet speed fluctuations at their remote campuses. Currently, a camera feeds the video to a KB Video Encoder, which sends the video stream to Connect DVR, and at each remote campus, the content is played through the Display Engine DVR.
With an easy-to-use web-based user interface, staff and volunteers can get set up quickly to preview, play, and share inspirational messages from the main campus at remote locations, according to the schedule of their local service. The ease of use of Haivision's Connect DVR service also means that the team is able to save a considerable amount of time getting their video streams to satellite campuses – allowing them to focus on their message.
Solution components
Related stories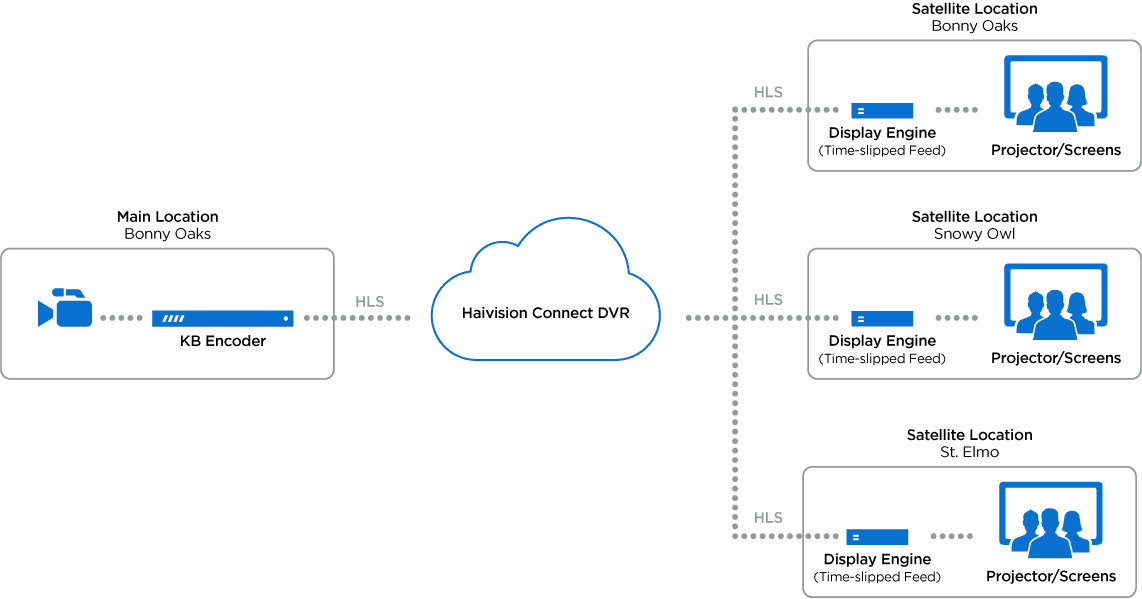 Results
The Reliability to Create a Great Worship Experience

Since Silverdale Baptist Church began using Haivision's Connect DVR Service, the team no longer worries about the reliability of their video streaming service – they know they can count on it, every week. As per technical director, Matt Johnson, "Haivision's streaming solution is one of the few things I don't have to worry about."
And with this worry lifted, the technical team has been able to focus their efforts on creating a great worship experience at their different campuses, and on spreading their message. They have seen a progressive increase in attendance across campuses, and as a result, are working on developing new campuses. They are developing a new campus at Bonny Oaks Drive, in Chattanooga, Tennessee, and are looking to add another campus to their ministry within the next five years.
About Silverdale Baptist Church
Silverdale Baptist Church is a ministry founded in Chattanooga, Tennessee, welcoming families and individuals of all walks of life to multiple services and Bible study groups each week. The ministry has grown over the years, and Silverdale Baptist Church currently serves its growing congregation at four locations, with another campus in planning.