How To Set Up a Video Encoder for Microsoft Stream
Microsoft Stream live events is revolutionizing enterprise video streaming by making high-quality, secure, video streaming accessible to more organizations than ever before. And it's not just large corporations – organizations of all sizes are increasingly turning to video streaming to communicate with their employees and foster culture across locations.
Microsoft Stream is making this easier than ever before, incorporating the familiarity of Microsoft applications with an easy-to-use interface. Of course, it is easy to state how easy something is to use. It is quite another to demonstrate it. In this post, we will walk you how to set up a video encoder for a Microsoft Stream live event in 5 simple steps.
In our previous post, we reviewed the important factors to consider when choosing a video encoder to use with Microsoft Stream live events. In this post, we will be using a video encoder that meets these considerations, including ease-of-use, Haivision's KB video encoder.
Step 1: Connect Camera to Encoder
First, you want to have your physical set for your live event ready, with your camera set up. Ensure that your KB video encoder is plugged into your camera and is connected to your network.
Step 2: Create Your Event in Microsoft Stream
Sign in to Microsoft Stream, and go to the menu bar, where you will click "Create > Live Event." This will bring you to the Events Setup page.
Fill in the details for your event, including the name, description, starting time and end time. You will also have the ability to choose your event language and upload a thumbnail to be your events' image (what your viewers see before the video stream begins).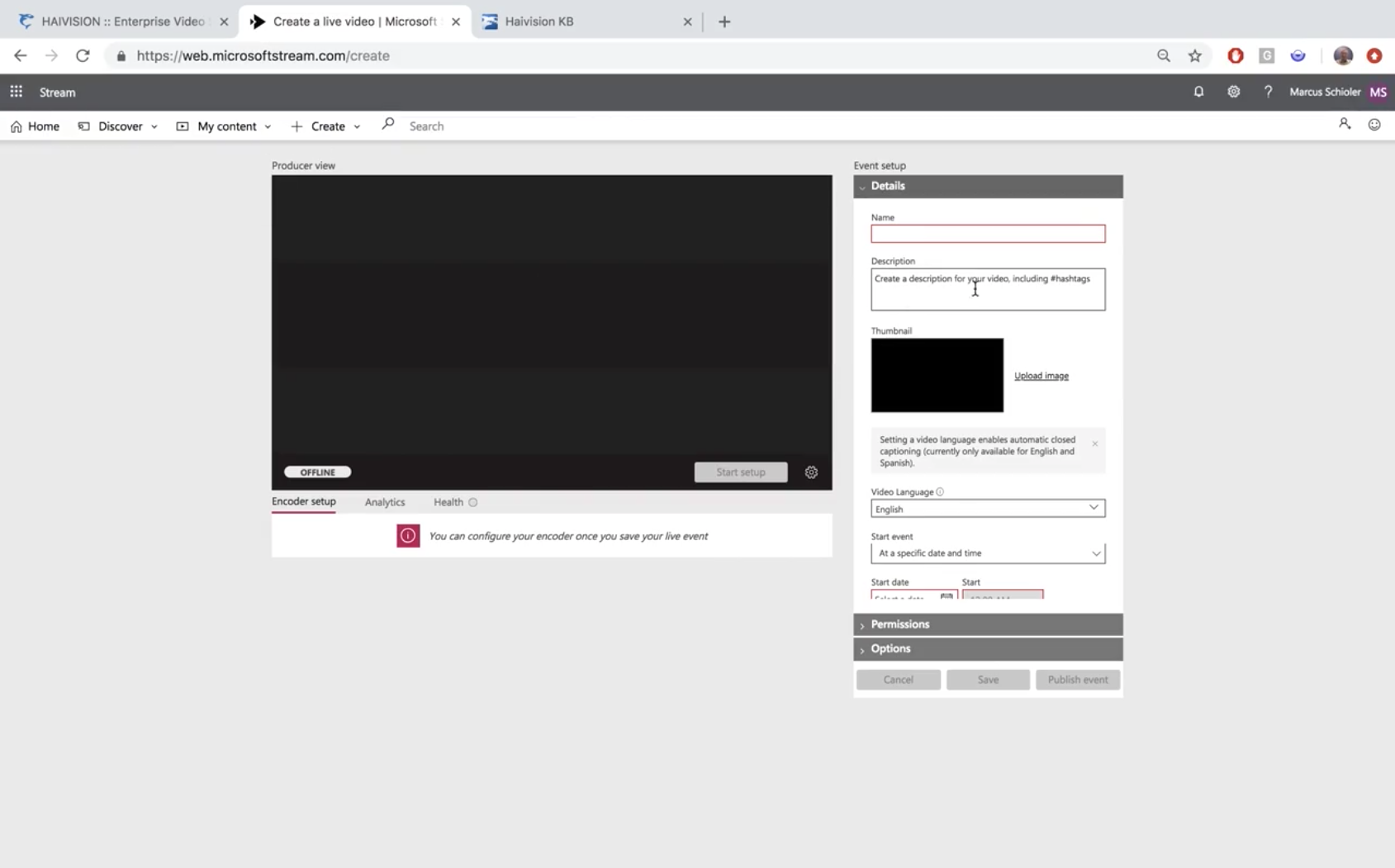 Once you have filled in the necessary details, click "Publish event"
Step 3:  Getting Your Encoder Presets
Once the event has been created, you will have the option to select your video encoder from list of compatible video encoders. Select Haivision KB Encoder and download the "preset" parameters to use for your video encoder.
Step 4: Setting Up Your KB Video Encoder
Log in to your KB video encoder.
At the Channel Control Center, click on the three dots on the right, and select "Import Channel(s)." You will now be able to upload the preset file you just downloaded. This will create a channel.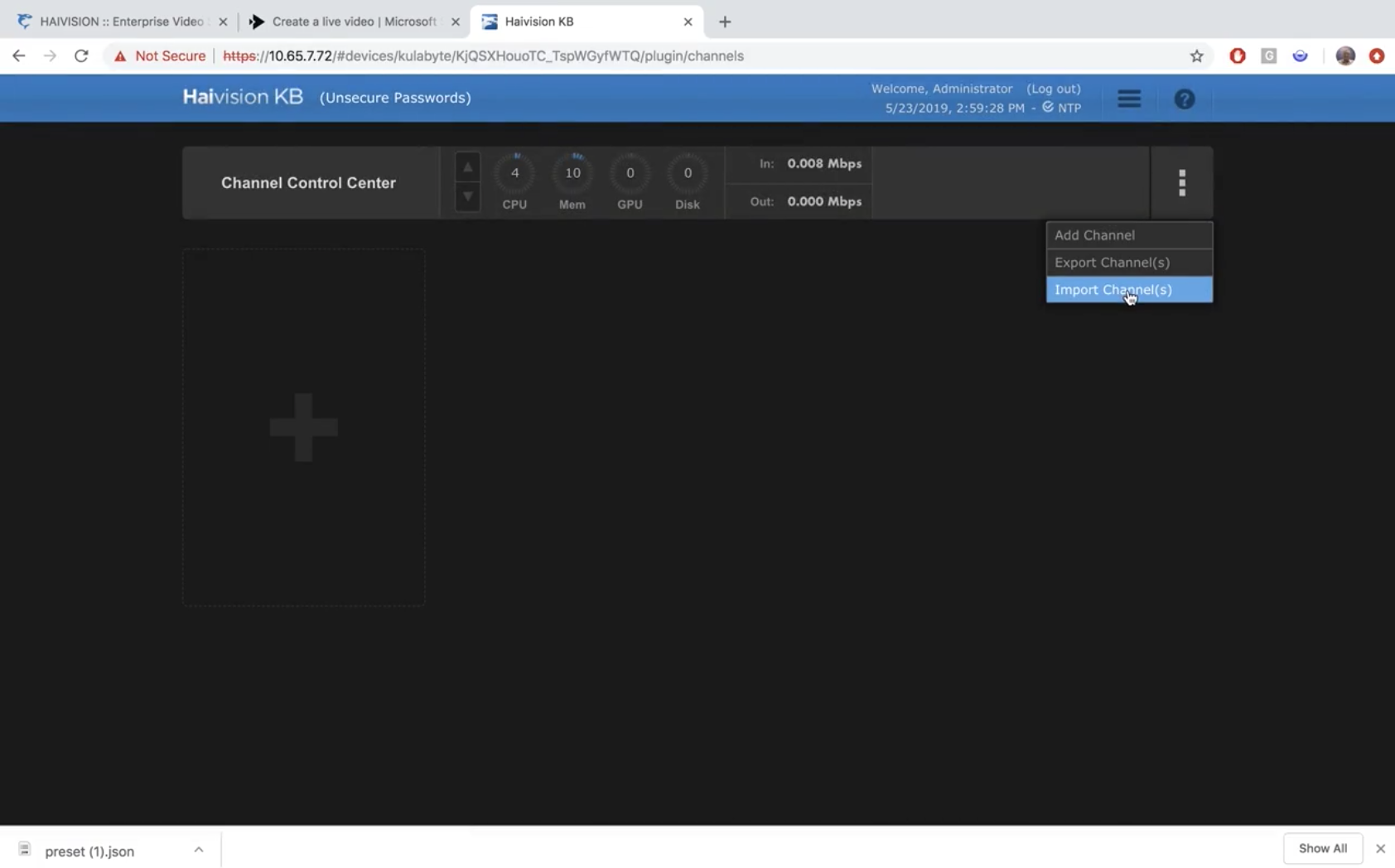 Now that your channel is created, click on it, and select "Channel Details."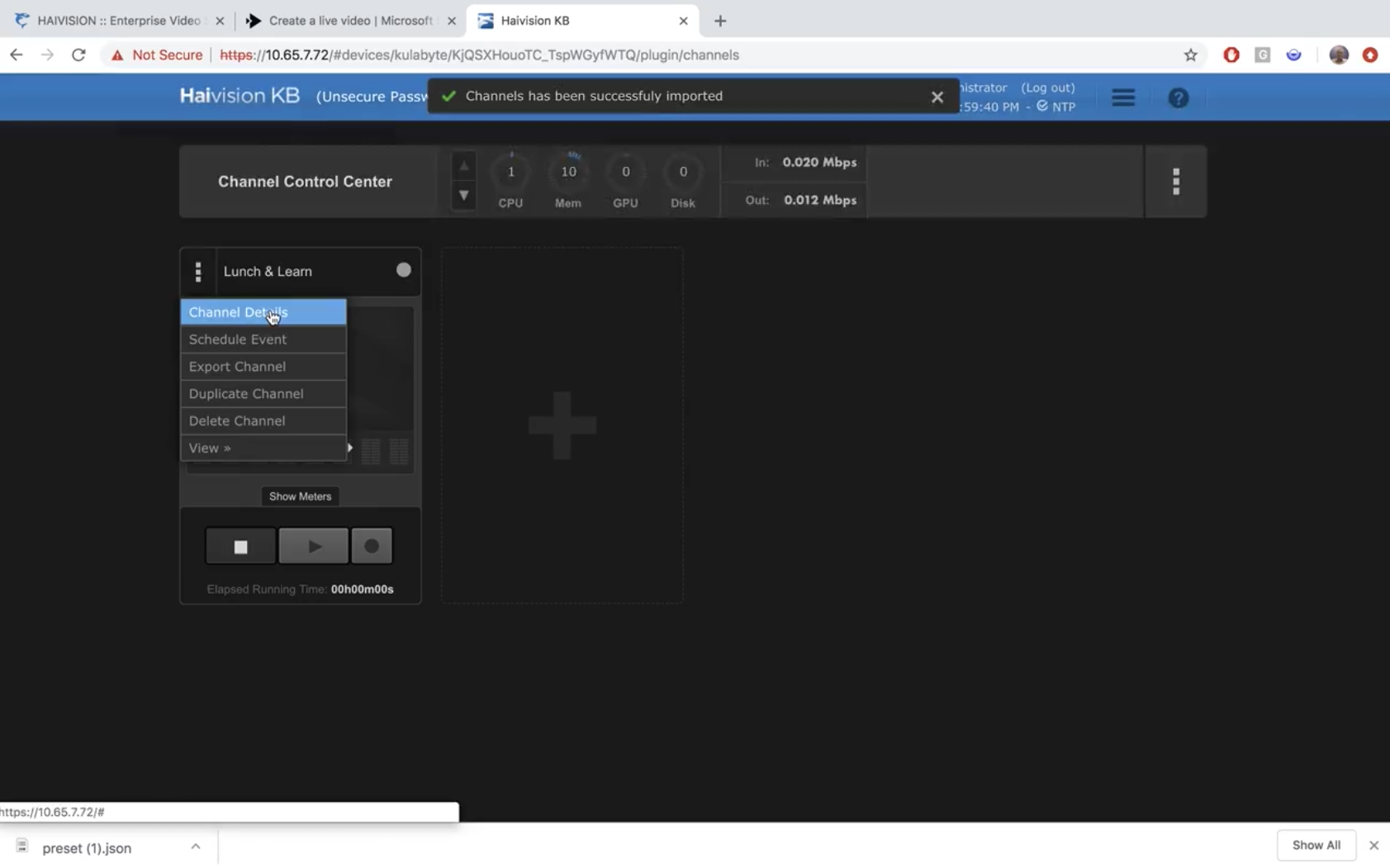 Click the setting icon beside "Input" under "Source." This will take you to your Input Parameters, where you can ensure that the video source selected, (either SDI or HDMI) matches your video source from your camera. You then click "OK" to go back to Channel Details.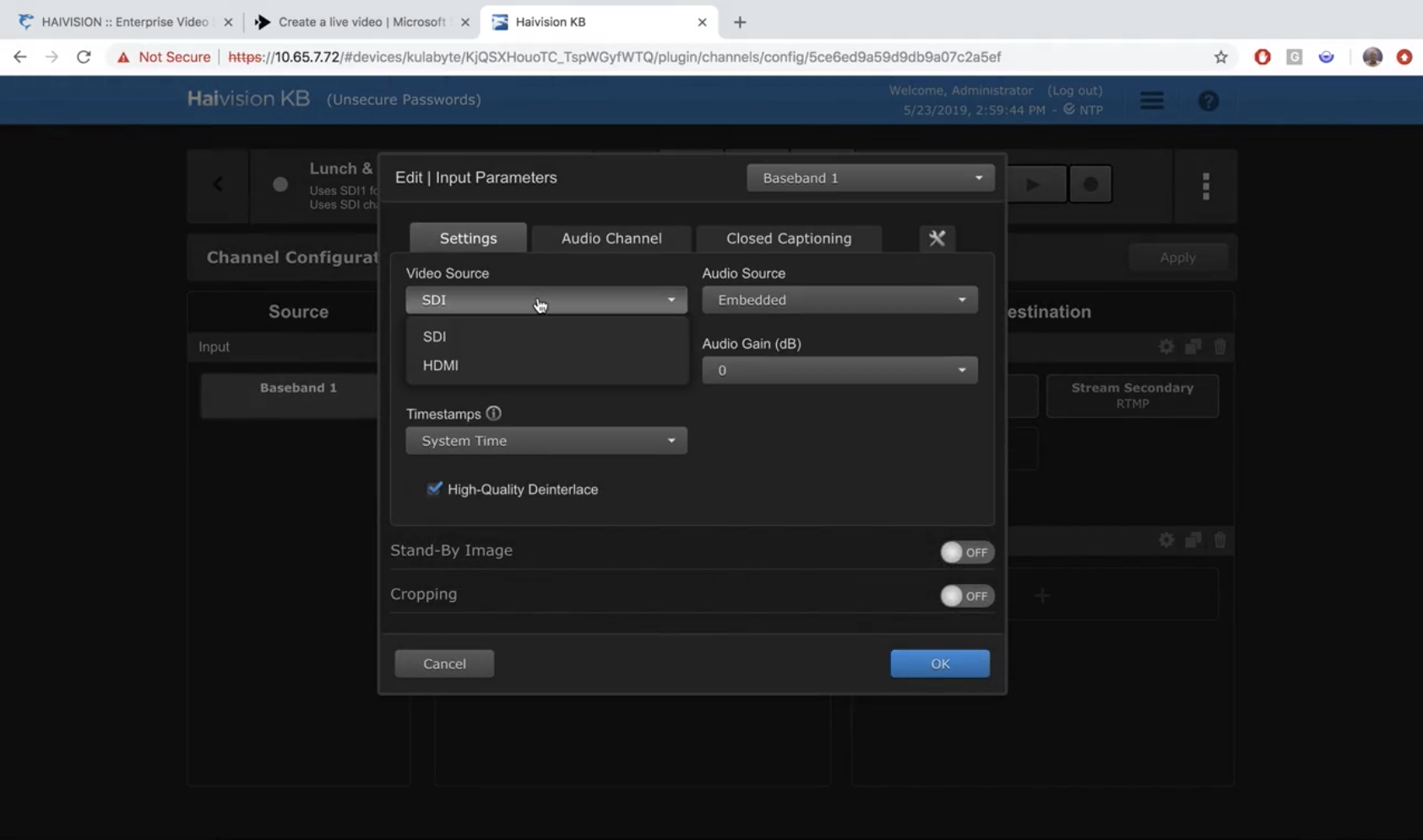 Under Encoders, you can see the KB is configured for 720p at 4000 Kbps, which will provide you with high-quality video. If you want to adjust the bitrate for any reason, you can click into the Video Encoder Parameters and type in a new bitrate.
When ready, click "Apply" to save your settings in Channel Details, then click on the left arrow to return to the Channel Control Center.
Step 5: Go Live
In the Channel Control Center for your KB video encoder, click on the play icon below your channel to start your stream. The green light in the upper right corner indicates that the stream has started.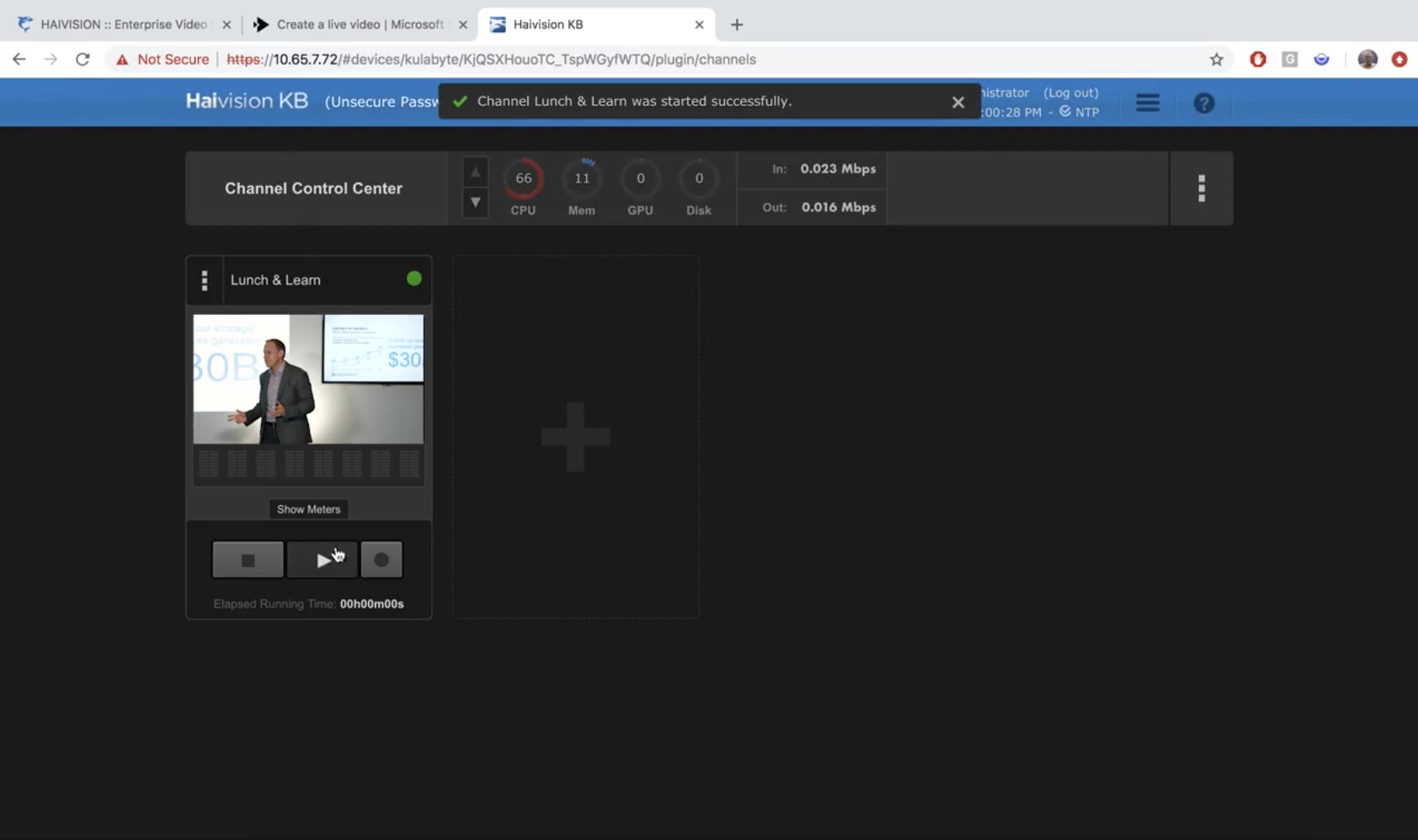 Once your video encoder is streaming, you can return to Microsoft Stream. Once you are ready to begin your event, click "Start Setup."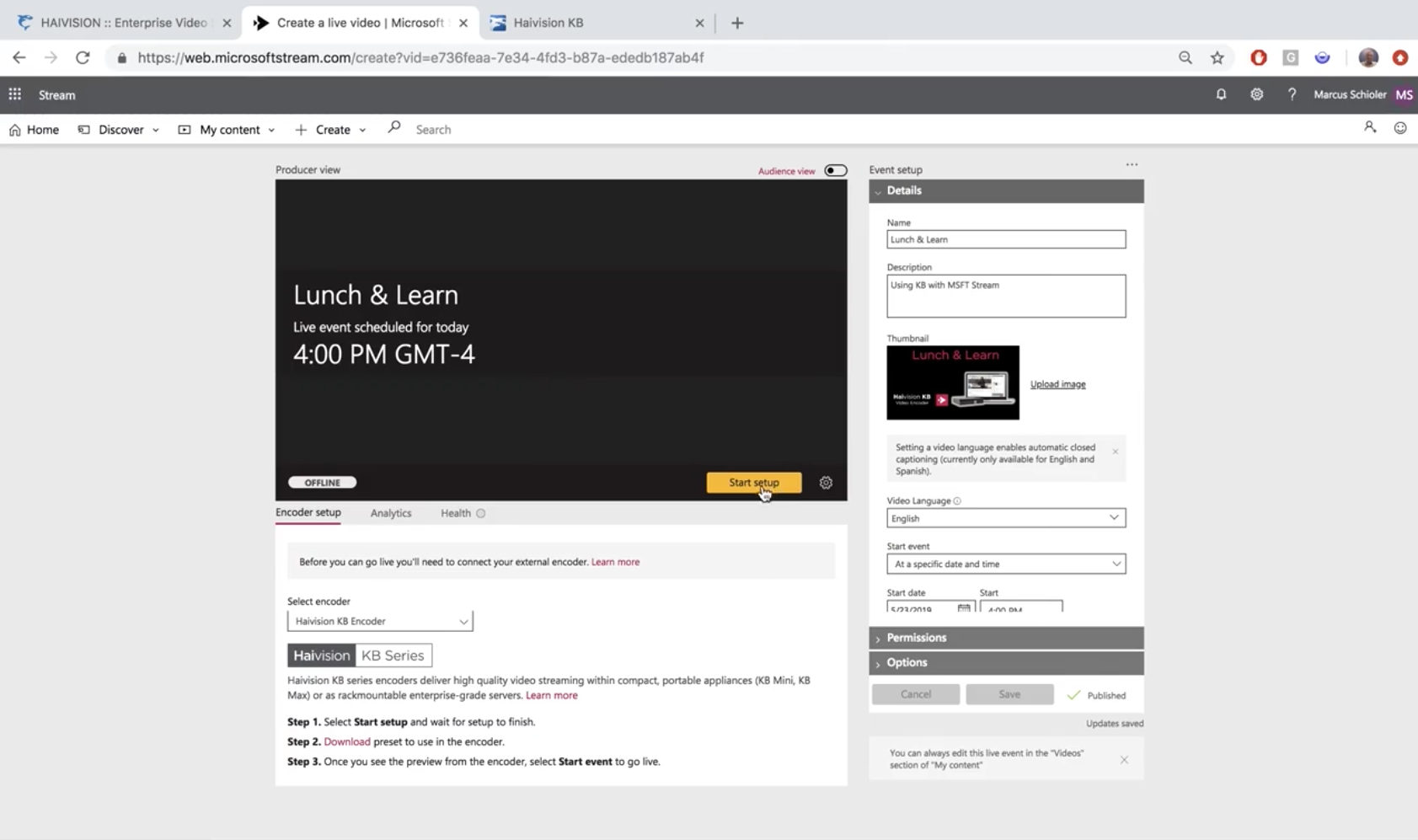 Congratulations, you are now streaming live with Microsoft Stream live events.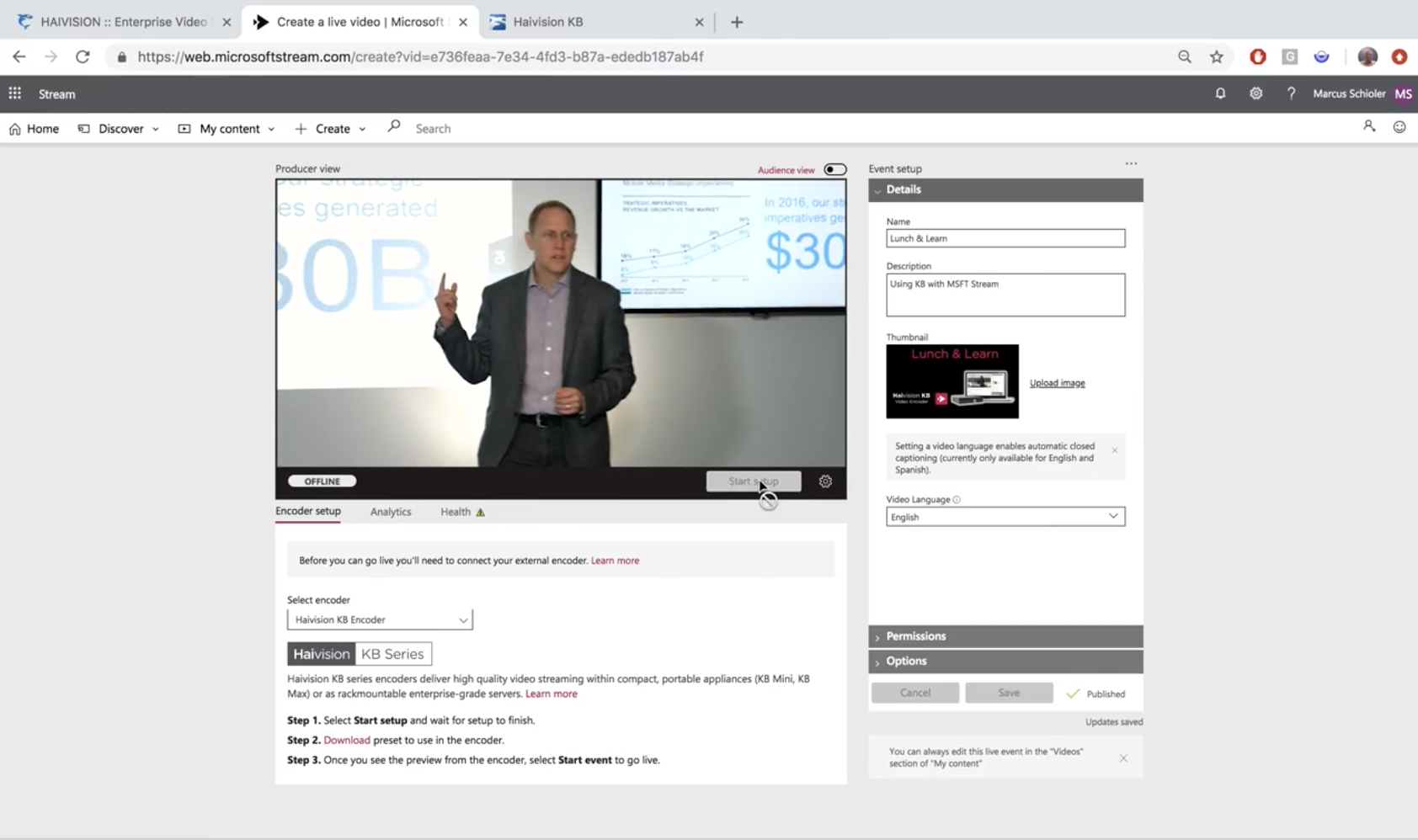 For the more visually-inclined, we also have a video walk-through for setting up a Haivision KB video encoder for Microsoft Stream live event. Watch below to see how you can have your video encoder set up and streaming in less than two minutes.

Are you ready to learn more about getting your organization started with live video streaming with Microsoft Stream? Take a look at our easy-to-use options for video encoding and distribution for Microsoft Stream – enjoy broadcast-quality live video within your organization.