House of Worship: Why You Should Care About Broadcasting Trends in the Broadcast IP Transformation Report
Haivision's Broadcast IP Transformation Report 2021 revealed key insights to challenges that the broadcast industry faced during the past year and a half. With a global pandemic severely affecting how broadcasters work, the numbers were very telling. While the report focused on the broadcast industry, video streaming professionals everywhere felt the impact, including those in online ministry.  
While broadcast is its own world, anyone in the video streaming industry should consider themselves to be a broadcaster. From the quality of the content to the equipment being used, content creators should ensure that their work is of "broadcast quality". Even though the Broadcast Report surveyed over 500 broadcast professionals for the results, many of the challenges and lessons can be applied across any organization streaming to an online audience, including churches and ministry. 
So what can online campus pastors and ministries learn from this year's Broadcast IP Transformation Report? Read on to find out.
Remote Production and IP Workflows are the New Normal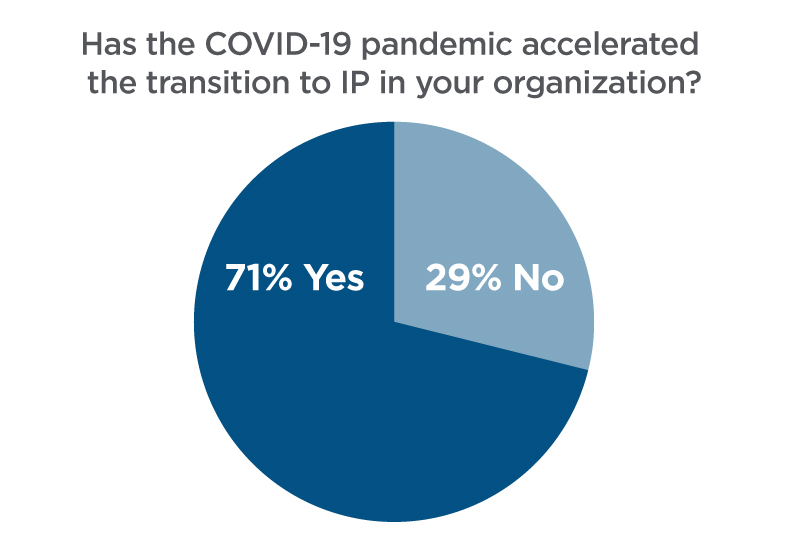 With the lockdown eliminating the opportunity to worship together, media ministers needed to find a way to get their message out without being on premise in front of the congregation. This year's Broadcast Report revealed that 71 percent of those surveyed believe that the COVID-19 pandemic has accelerated their organization's transition to remote collaboration and decentralized workflows. This issue was felt by all industries including online ministries, pushing pastors to be agile and flexible by originating video streams remotely to distribute content to their web audience, which offers similar challenges to those in broadcast.  
A key aspect in making remote contribution work and ensure that messages reach the online campus viewers requires deployment of proven technology and stable solutions to ensure a high-quality viewer experience. Two of the biggest challenges those surveyed in the Broadcast Report said they face are a lack of knowledge when it comes to IP and the cloud (34 percent) and unreliable networks (46 percent), so leaning on a proven, trusted vendor when it comes to new technologies and methods of reaching the congregation is essential.  
In 2020, Haivision clients employed our SRT technology using Makito X and KB encoders as well as our Haivision Play Pro app, to stream live content from remote locations to the main or (master control) campus. These SRT workflows provided much needed flexibility and scale when it was most needed as ministry was no longer concerned about bandwidth constraints or using the public internet and was able to stream and transcode pristine video without packet loss across their online campus pages and social media portals.  
Relying on the public internet to send video means leveraging the right video transport protocol, and when asked which methods respondents currently use, more than half (53 percent) said they use SRT. 
SRT and the Internet Become the Preferred Method of Transporting Video
SRT, which stands for Secure Reliable Transport, is an open-source video streaming transport protocol that delivers low latency video across unstable and unreliable networks. SRT has become essential when it comes to video contribution over the internet as it has become a popular choice to deliver video. SRT accounts for packet loss, jitter, and fluctuating bandwidth while maintaining video integrity and quality over unreliable and unpredictable networks.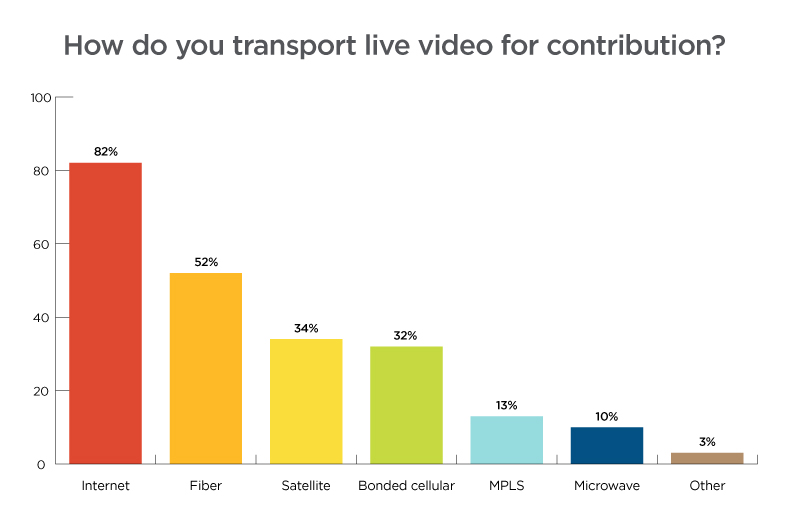 As the Broadcast Report revealed, the internet has become the overwhelming method of choice with 82 percent of respondents choosing it, as both satellite and fiber adoption rates continue to drop. Ease of use is not the only reason that the internet continues to be adopted, cost is a major factor as well. Satellite can be a very expensive method for video transport in comparison to sending streams over the public internet, especially for ministry, and the cost of fiber hasn't yet met the market's budget constraints. 
As the combination of SRT and the public internet continued to become the preferred way of transporting live video, mobile continues to be the preferred method of consumption. Between 60 to 70 percent of our online congregations currently consume content over mobile. As 5G network adoption continues to grow (64 percent of those surveyed believe it will have the biggest impact on broadcasting in the next five years), the use of SRT and the public internet for video contribution and delivery over mobile will only continue to expand alongside it.  
Cloud-based Workflows are Here to Stay
When it comes to trends that respondents feel will remain in place even after the pandemic, 56 percent believe that IP networking and content delivery is here to stay. Additionally, 46 percent say that remote production over IP will also become a regularity in broadcasting, and we see both as trends that will be adopted by online ministry. 
This shift to remote production was a necessity for pastors and church leaders to get their message out to their congregation during a time when encouragement was needed. Like those surveyed, we also believe that these video contribution and delivery methods will carry over as communities open back up to physical worship. So even though ministries are opening their doors again, decentralized workflows for the house of worship industry and remote production using SRT on the internet for content delivery are trends that we see sticking around for the foreseeable future. 
Want a free demo of a Haivision solution?
See for yourself how Haivision solutions can help you with your video projects.