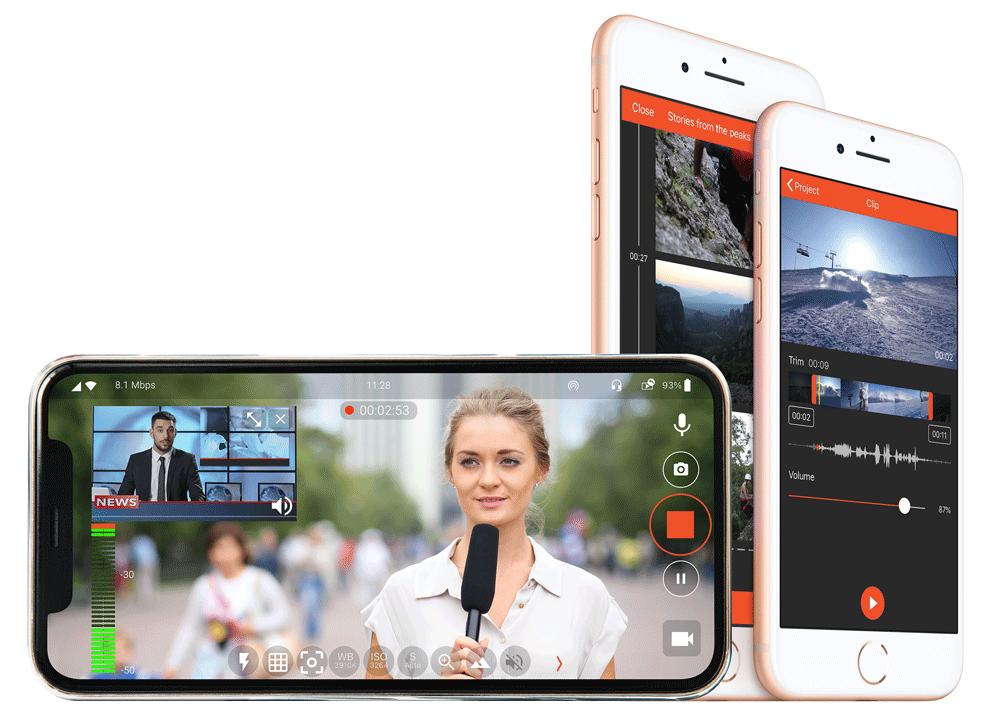 EMPOWER CREATIVITY
With an easy-to-use interface, advanced camera settings, and video editing features, the MoJoPro app allows you to create stories in minutes and broadcast them directly to any live streaming platform or social media network (Facebook and YouTube included).
With support for H.264/AVC and H.265/HEVC video codecs, the MoJoPro app can stream high-quality videos at low bitrates.
For iOS & Android™ Devices
Free Download, Unlimited Devices
Reliable Transmission Over Aggregated Cellular and WiFi
Full HD Encoded in HEVC and H.264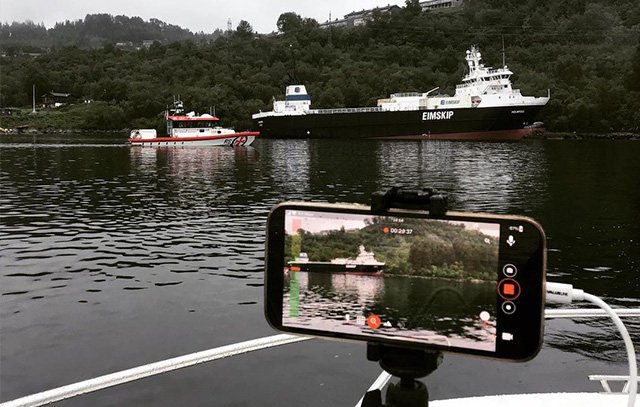 OPTIMAL QUALITY FOR LIVE AND RECORDED VIDEO
The MoJoPro mobile app expertly adapts to your workflows:
Live operations with or without an intercom to the media control room
Broadcast live while recording a local copy of the shoot
Record-only mode with the option to transfer individual or assembled files
Live broadcast streams and recordings have independent resolutions and bitrates to suit various needs and ensure the best video quality using H.265/HEVC or H.264/AVC.

DUAL NETWORK AGGREGATION
Using the SST (Safe Streams Transport) protocol, MoJoPro bonds the smartphone internal cellular modem with an external cellular connection managed by a MiFi module, an ad-hoc WLAN network acting as a WiFi-to-cellular gateway. It adapts the video encoding bitrate and resolution according to real-time network conditions to cope with unpredictable IP network performance and ensure reliable transmission.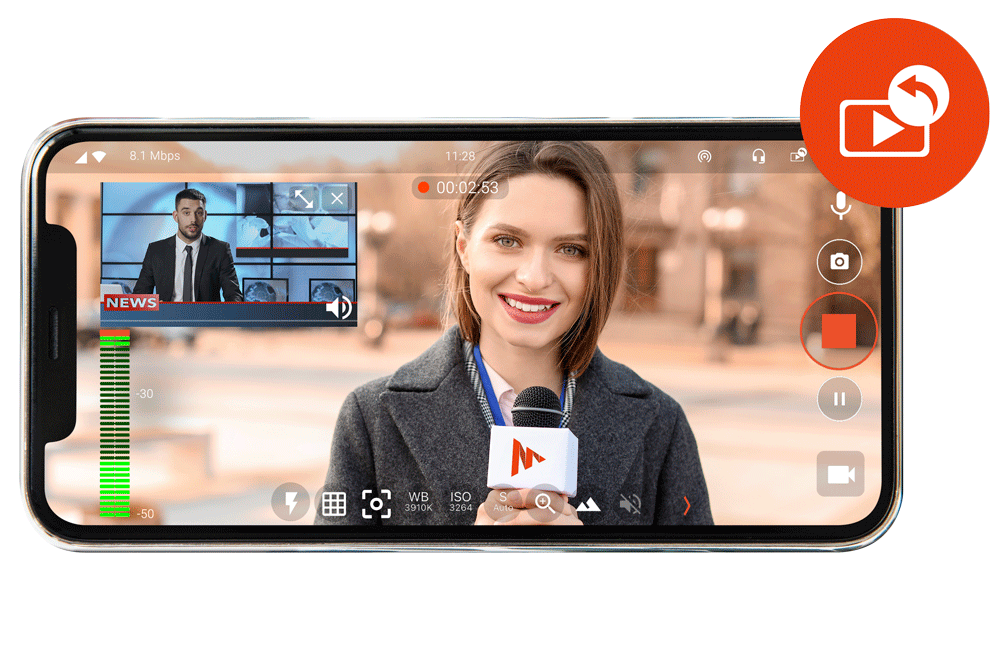 VIDEO RETURNS
The video return feature of the MoJoPro iOS app makes it the ultimate production solution to cover live news from the field. Receive and watch on-air programs and teleprompter feeds coming from the studio directly on your MoJoPro app.
Our plug and watch solution allows you to get high-quality live feeds in fullscreen or picture-in-picture mode – you choose!
FAST AND EASY DEPLOYMENT
Whether you manage a medium or large fleet of smartphones, the MoJoPro app is ready for automated and controlled deployment through any Mobile Device Manager (MDM). You can distribute and install the application silently without user intervention and with your own default settings, including video resolutions and stream bitrates. With MoJoPro you can also enforce stringent policies to suit your specific security needs.
The MoJoPro live streaming app guarantees that your journalists are always running the latest version with the right settings.
MISSION-CENTRIC
The MoJoPro is natively designed to be integrated with your workflow, helping you manage the entire lifecycle of your video assets including planification, acquisition, indexing, storage, retrieval, processing, packaging, delivery, and archiving.
Our device-agnostic and easy-to-use mobile journalism app empowers your journalists, including staff and freelancers, to contribute live video from anywhere at any time.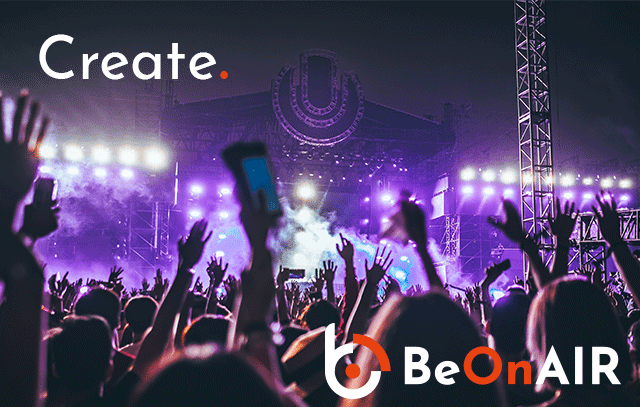 BEONAIR: BROADCAST-GRADE LIVE STREAMING SOLUTION
MoJoPro is included in our BeOnAir all-in-one package that offers a simple and robust solution to broadcast live on the move and to multiple online platforms. The BeOnAir package is composed of our ultra-compact bonded cellular Air220 mobile transmitter, the industry leading MoJoPro mobile application, an advanced cloud receiver, and distribution gateway service.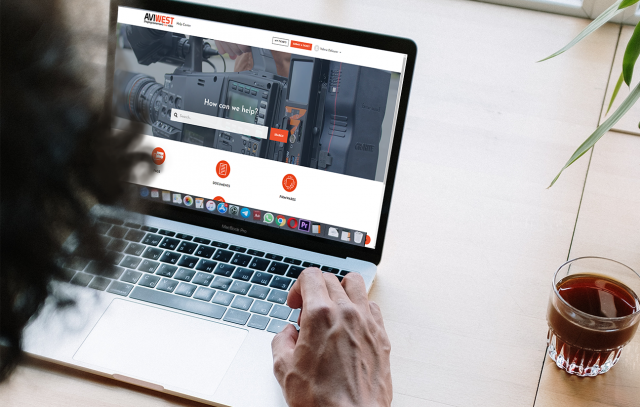 PROFESSIONAL SERVICES
Our team of experts is committed to providing you with the best customer experience and support throughout the duration of your project. We offer 24/7 global support, roaming solutions, and a geographically distributed team of engineers.
HAIVISION MOJOPRO TO COVER ALL YOUR NEEDS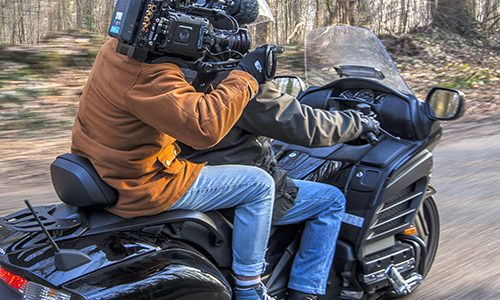 NEWS BROADCAST
Cover every story quickly and cost-efficiently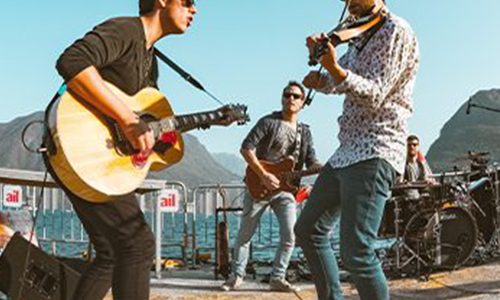 EVENT PRODUCTION
Build a robust but easy-to-deploy remote production workflow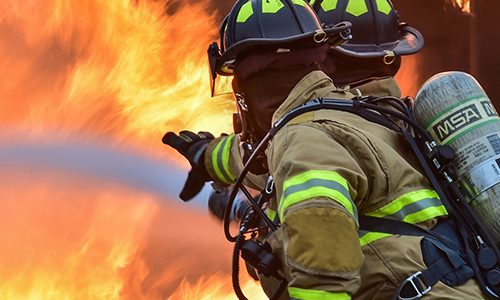 PUBLIC SAFETY
Provide crucial real-time field information
Broadcast from anywhere with the agile MoJoPro live streaming app. See how MoJoPro seamlessly captures in-the-field information by industry.
HAIVISION MOJOPRO CUSTOMER STORIES
TV2 Denmark Covers Regional Elections

>
Using an expanded range of AVIWEST digital mobile newsgathering equipment, TV2 Denmark vastly improved live coverage of the recent regional election...