KB SERIES
Live Event Streaming For Your Internet Audience
BEST VIEWING EXPERIENCE
H.264 & HEVC Internet Media Encoders/Transcoders
Available as a small form factor portable appliance, HD server or 4K server, the KB Series of H.264 & HEVC Internet Media Encoders and Transcoders provides you with multiple options for live event streaming, helping you deliver the highest quality live video to your global internet audience. With the KB series, you have options to encode/transcode video in resolutions including SD, 720p, HD 1080p and up to 4K/UHD 2160p.
These resolutions can be distributed as a cascade of adaptive bitrate RTMP/HLS/ MPEG-DASH streams across the world's largest CDNs, giving you the highest quality per bit and giving your internet audience the best viewing experience regardless of their geographic location, network conditions or preferred device.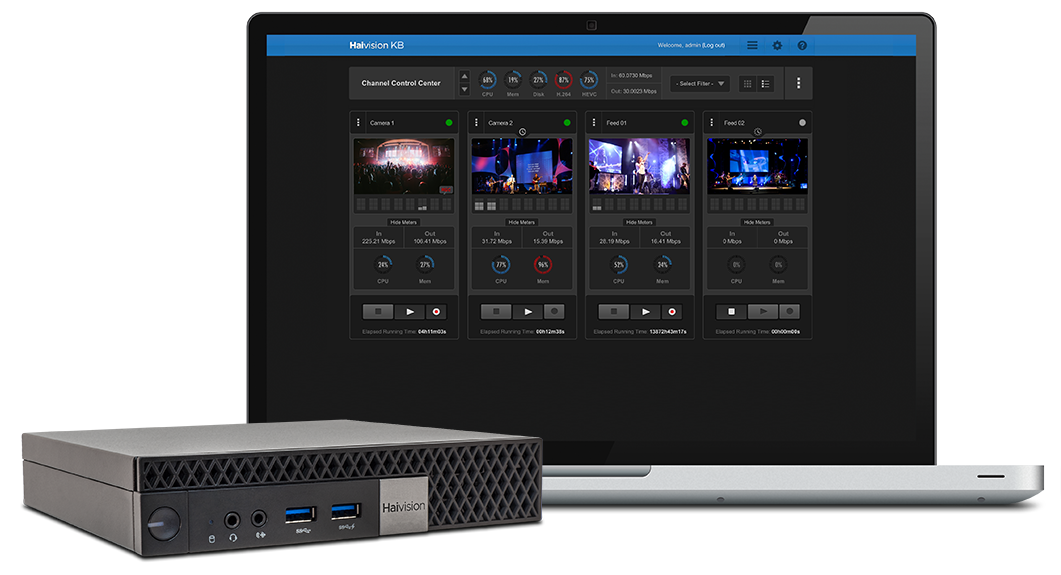 GET THE MOST OUT OF YOUR UPLINK CONNECTION TO THE CLOUD
When your internet connection at the source isn't very reliable, and bandwidth is limited, simply send your video streams to a transcoder in the cloud to take care of adaptive bitrate (ABR) distribution.
With support for HEVC, the KB Series uses up to 50% less bandwidth than H.264. Additionally Haivision's SRT (Secure Reliable Transport) technology makes low-cost, readily available public internet connections secure and reliable for live video transport from the source to the cloud, getting the most out of your available uplink bandwidth.
EASY LIVE VIDEO FOR WORKPLACE BY FACEBOOK
The KB Mini helps Workplace users get the most out of their Workplace by making it easy to securely and reliably live stream meetings and presentations to all Workplace colleagues, wherever they may be located. Just plug in the live video feed, connect to the internet, and start streaming!
HARDWARE ACCELERATION & ABR CASCADES
The KB Mini and KB 4K internet encoders/transcoders offer Intel-based hardware acceleration enabling real-time H.264 or HEVC encoding and adaptive bitrate (ABR) cascades up to 1080p for the KB Mini and 4K/UHD 2160p for the KB 4K. This maximizes stream quality for target devices while taking advantage of the bandwidth savings offered by HEVC.
POWER HIGH QUALITY LIVE EVENTS WITH 360-DEGREE VR STREAMING
Bring your remote viewing experience to life with virtual reality and 360-degree streaming. By incorporating 360-degree virtual reality cameras into your KB 4K workflow, your audience's experience becomes immersive, should audience members choose to use VR goggles or a media player with 360 support for viewing.
FLEXIBLE DEPLOYMENT OPTIONS
The KB Series offers flexible deployment options for every live event streaming scenario
The award-winning KB Mini Encoder/Transcoder is a portable all-in-one H.264/HEVC encoder, ideal for live event streaming from anywhere with an internet connection. Leveraging Intel CPU and GPU hybrid processing to deliver H.264/HEVC cascades up to 1080p, the KB Mini gives you big power in a small form factor appliance.
A rackmountable server, the KB Encoder/Transcoder Server features redundant power supplies, RAID configurations and support for up to four 1080p video input channels.
The KB Encoder/Transcoder Server is ideal for enterprise-grade internet streaming and fits within your existing enterprise infrastructure.
The KB 4K Encoder/Transcoder has all the benefits of the KB Encoder/Transcoder Server, with hardware accelerated HEVC encoding to fuel the highest quality streaming events, supporting up to 4K H.264/HEVC viewing experiences with the ability to capture 4K/UHD 2160p over 1x 12G-SDI or 4x 3G-SDI interfaces.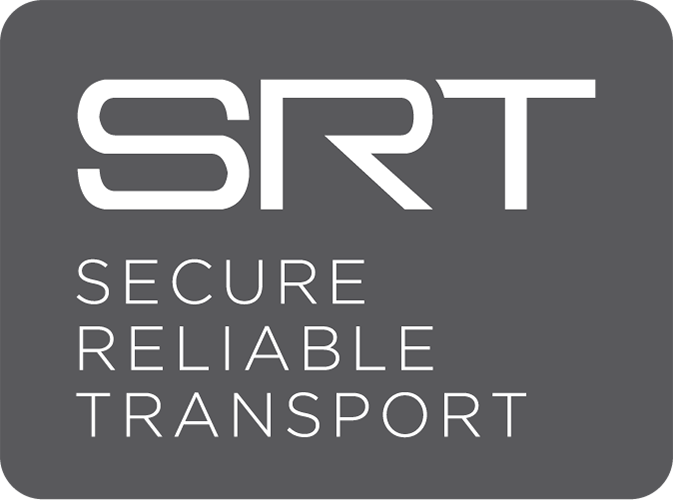 POWERED BY SRT
Secure Reliable Transport
Haivision's Secure Reliable Transport (SRT) technology provides end-to-end security, resiliency and dynamic endpoint adjustment based on real-time network conditions to deliver the best video quality at all times.
With SRT, you can optimize video streaming across unpredictable networks, like the Internet, by assuring quality-of-service when faced with packet loss, jitter, latency, and fluctuating bandwidth.
SRT offers significant operational flexibility and cost savings over (or compared to) satellite or custom network infrastructures.
Ready for a demo, or want to get more information about Haivision products and services?