STREAMING YOUR MESSAGE HAS NEVER BEEN EASIER
​Haivision Connect is an easy-to-use live and on-demand video platform for ministry and churches to reach viewers online through embeddable web players, mobile apps, and social media platforms, including YouTube and Facebook.
For ministries of all sizes, Haivision Connect is designed with your workflows and users in mind. It is unique in providing all the tools your church and ministry needs to easily livestream and monitor your services, manage video encoders, and measure video performance – all from a single browser or tablet window.
With an easy-to-use user interface that addresses the needs of both AV professionals and non-technical volunteers, Haivision Connect saves you time and allows you to focus on what matters most – creating experiences that inspire your audience.

Simplified Video Streaming
An intuitive web UI that lets you start a high-quality live stream or publish on-demand video in just a few clicks

Rebroadcast Events with Sim-Live
Multiply the impact of your message using pre-recorded media for scheduled sim-live events

Reach Viewers Anywhere
Simultaneously livestream and publish on-demand video to embedded web players, mobile apps, and social media Understand Your Audience
Advanced analytics to understand the impact of your message, with real-time and historical data

All From One Browser Window
Schedule events, add metadata, manage content and devices, and monitor streams – all from a single cloud UI

Made for Ministries
Customizable workflow elements that match the way you, your leaders, and volunteers work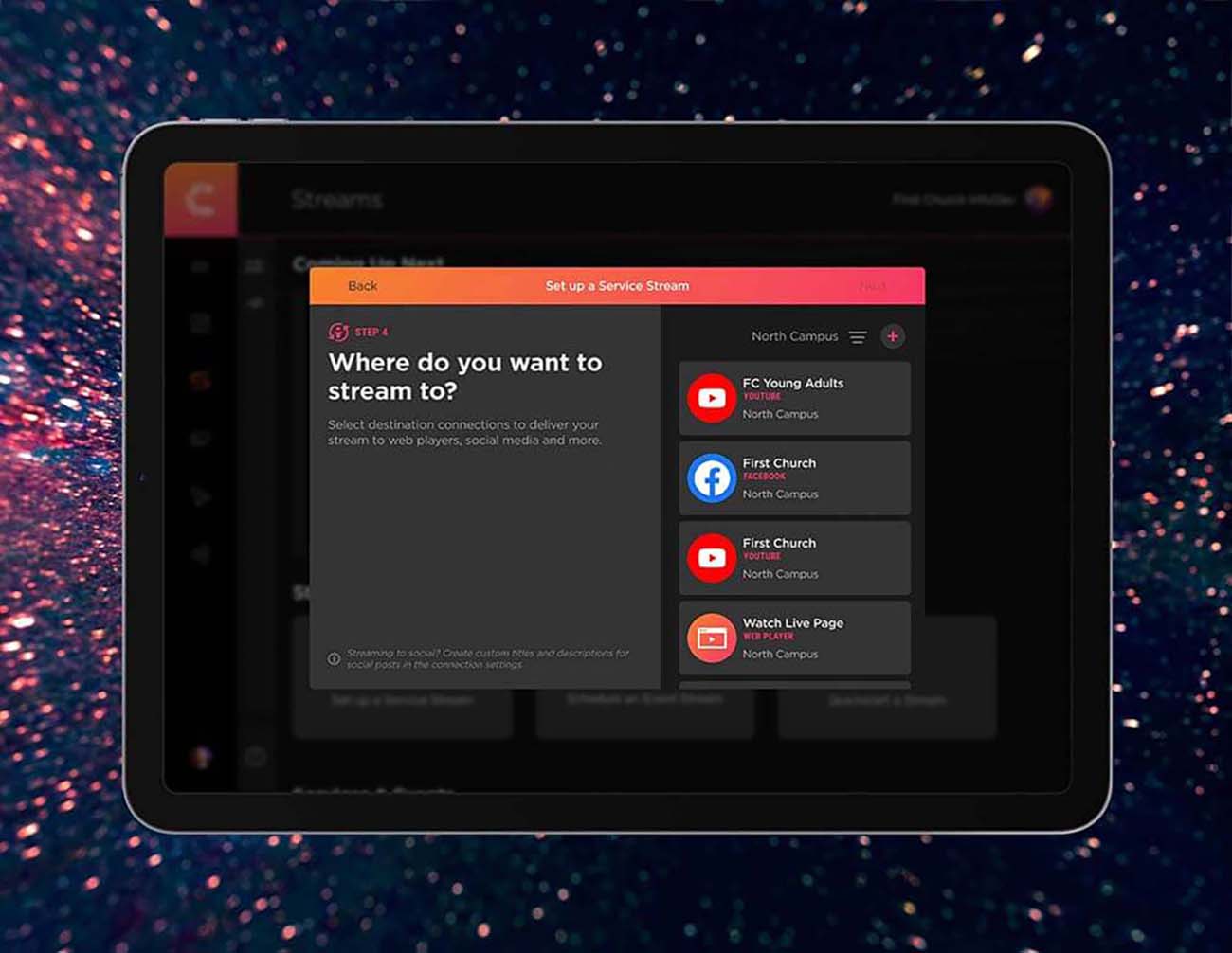 GET STREAMING IN SECONDS
Our easy-to-use web interface gives experienced staff with the advanced tools they need, while enabling non-technical volunteers with the ability to set up a live stream quickly.
Simple point-and-click interface
Setup and control your video encoders
High-quality HD video with near real-time delivery
Easily accessible from any web browser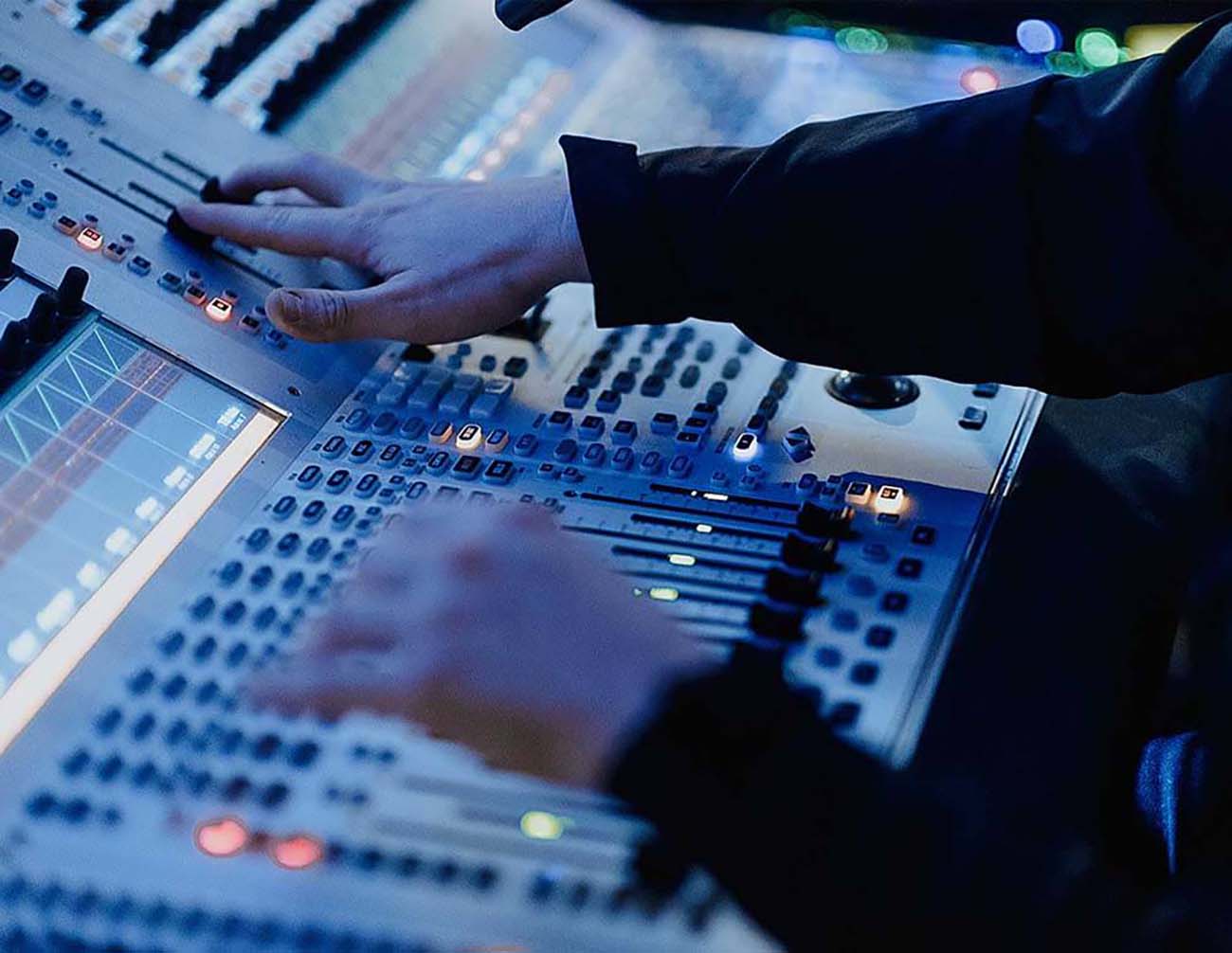 MAXIMIZE THE REACH OF YOUR CONTENT
Increase the reach of your message by using a recorded or uploaded video to launch simulated livestreams and offer video-on demand. Schedule sermons for shared worship at times that best suit your audiences and create a library of on-demand content grouped around specific themes, pastors, or locations. Inspire your audience anywhere at any time.
Schedule events in advance
Adjust to local viewing times
Rebroadcast past events using recorded or uploaded video
Publish video on-demand to web, apps, and social media
Create playlists for your viewers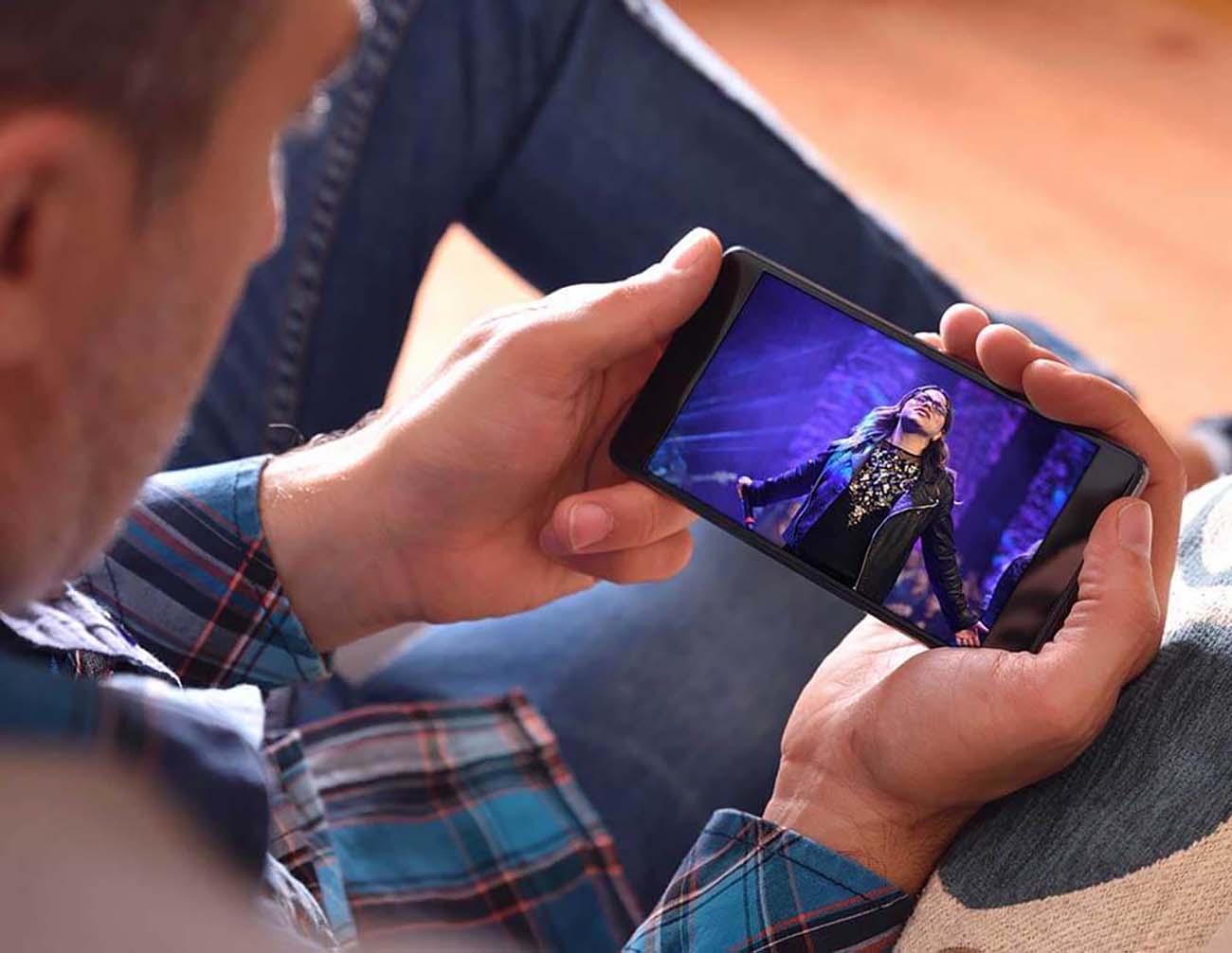 REACH PEOPLE WHERE THEY ARE
Make it easy for your message to reach your audience on their preferred platform, without any additional steps.
Embed streams into web players and custom OTT apps
Facebook and YouTube integrations
Stream to mobile apps like Subsplash and Pushpay
Create custom RTMP URLs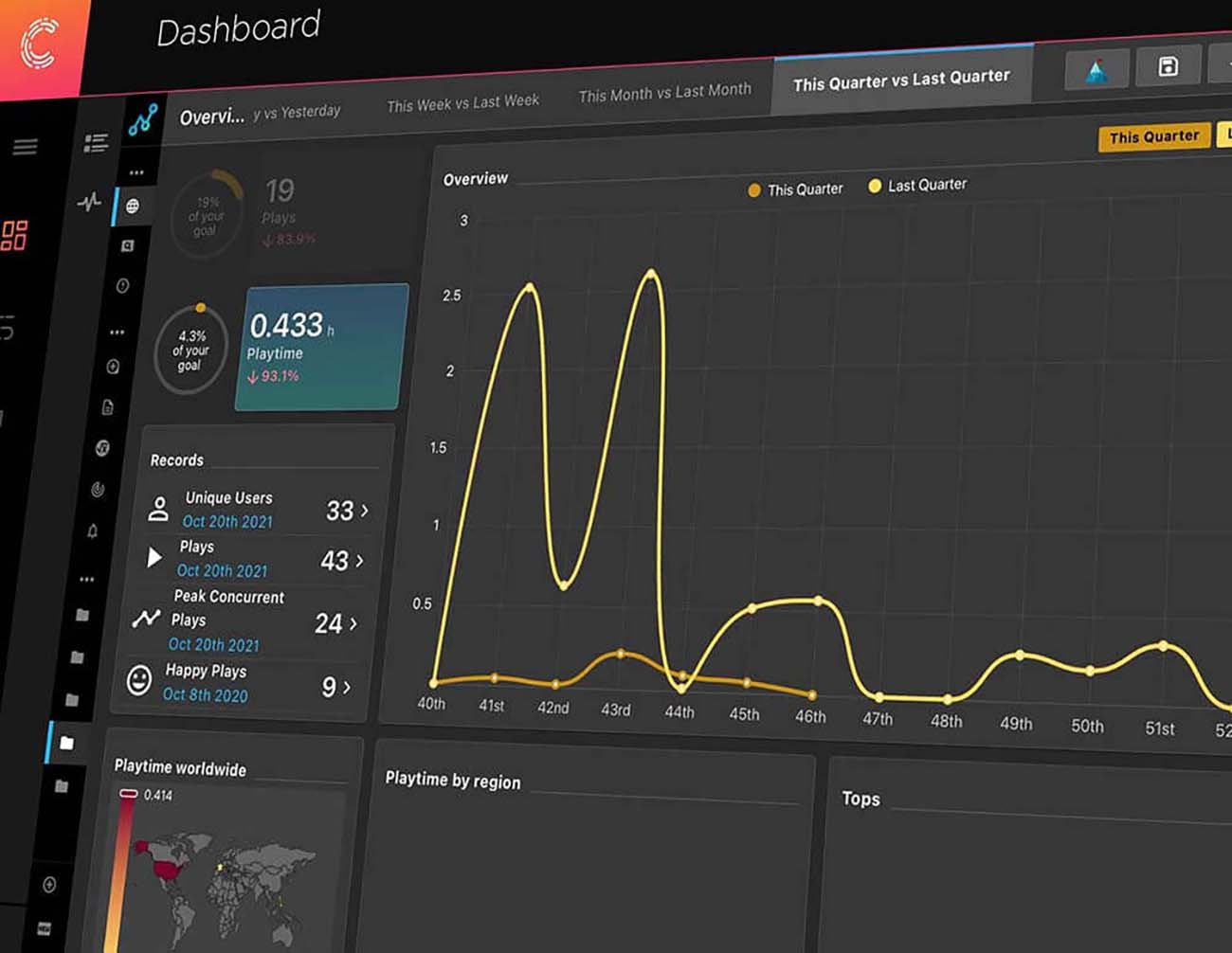 KNOW YOUR AUDIENCE
Gain valuable insights that help you measure the impact of your events. Learn when, where, how, and what your audience is watching, and understand how your content is performing. Haivision Connect makes it easy to quickly access the analytics you care about for your live streams to better engage your viewers.
Track audience participation including total, unique, and peak views
View platform, location, and view duration data
See data in real-time or view historical statistics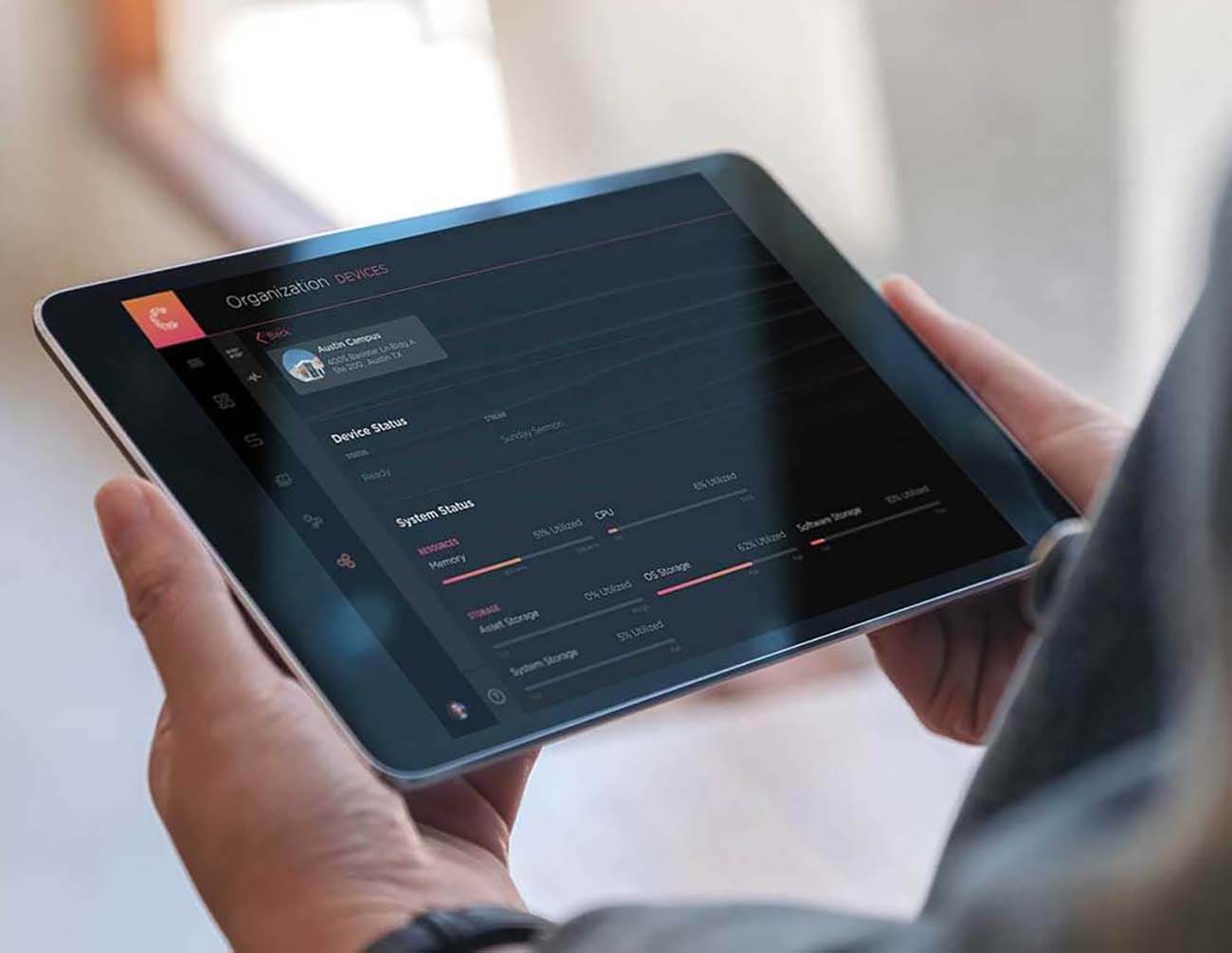 BE A HERO FROM THE FRONT ROW
Get out of the control booth and into the audience. Haivision Connect provides the simplest way to stream, monitor, and manage devices across multiple locations from anywhere using a tablet or web browser – even when watching from the front row.
Track real-time device availability, status, and streaming statistics
Schedule, start, and stop streams across multiple locations
Publish on-demand video content to multiple places at once
Monitor streams from anywhere, in the browser or on a tablet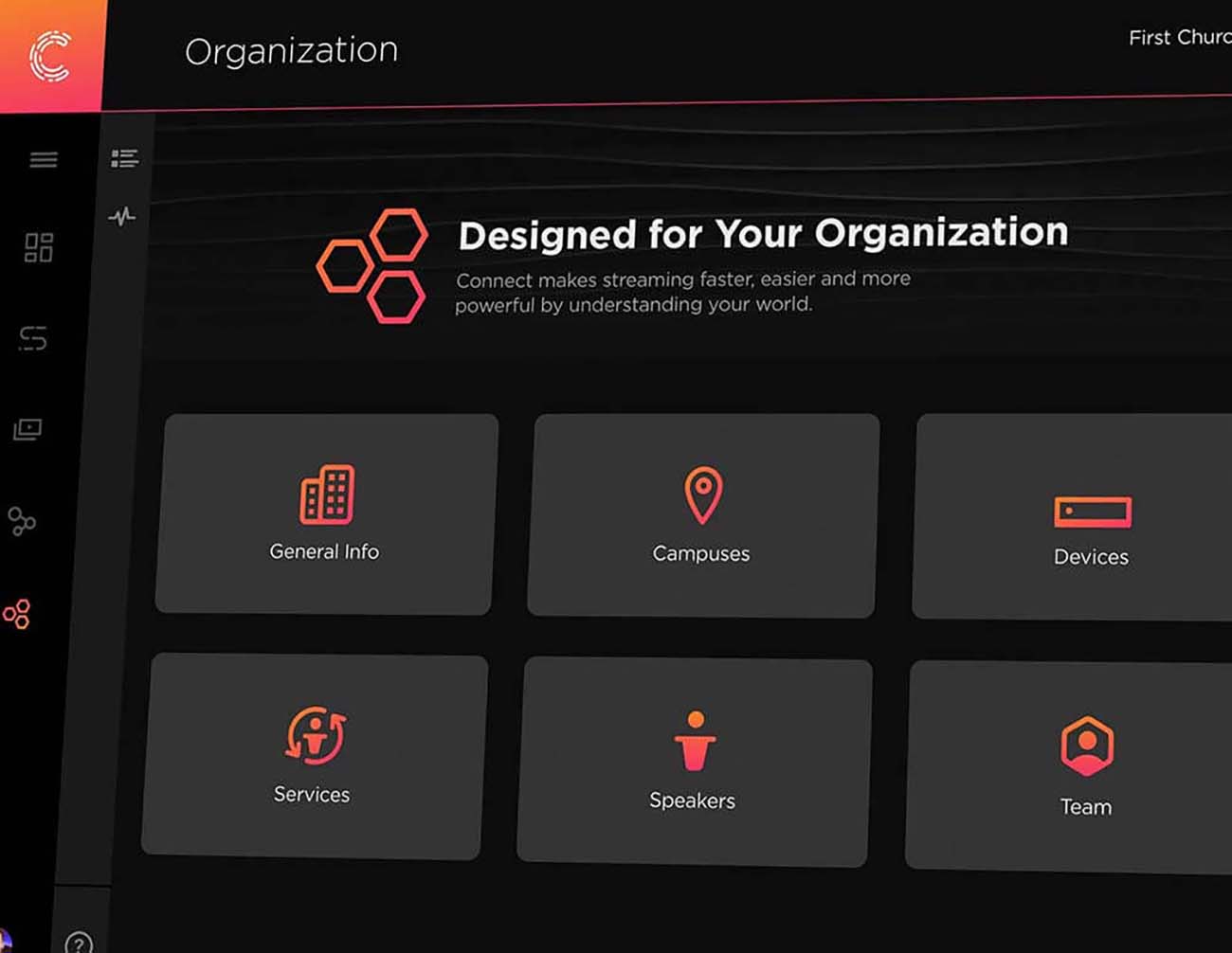 DESIGNED FOR YOUR CHURCH
Haivision Connect is designed around the way you work. Simple to understand modular workflows and easy metadata tagging make organizing live streams and on-demand content a breeze.
Configure the video encoder devices, campuses, speakers, and services that make up the foundation of your church's online presence
Once set up, use these elements as building blocks to create streaming sessions quickly and easily
TECHNOLOGY YOU CAN TRUST
Your message matters. That's why Haivision Connect uses the same enterprise-grade technology that is trusted by thousands of organizations worldwide including major broadcasters, media companies, corporations, governments, and defense agencies.
With our Emmy-winning Secure Reliable Transport (SRT) protocol, you can ensure reliability and security when transporting live video across the internet.
RELATED PRODUCTS
Get the Most Out of Your Connect Workflows