WHITE PAPER
The Insider's Guide to Live 4K Production Over the Internet
Discover how the latest live video encoding technology offers broadcasters the flexibility to stream both HD and 4K UHD video over the internet.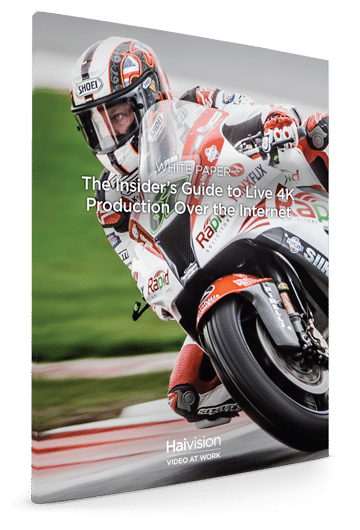 Key Considerations for Delivering Live 4K Content Over Existing HD Workflows
For live production workflows, broadcasters looking to respond to the increasing demand for 4K UHD content are confronted with significant infrastructure and bandwidth challenges in order to deliver premium service quality to their viewers. This white paper explains how recent advances in video encoding technology can provide the flexibility of delivering both HD and 4K broadcast contribution content over existing infrastructure originally sized for HD content.
In this white paper, you'll learn how to:

Leverage your existing infrastructure to ease the transition from HD to 4K
Reliably and securely stream 4K UHD content over the public internet
Overcome the challenges associated with 4K field contribution
Stream HD and 4K using the latest ultra efficient video encoders