MB SERIES
High Density, Flexible, and Scalable Chassis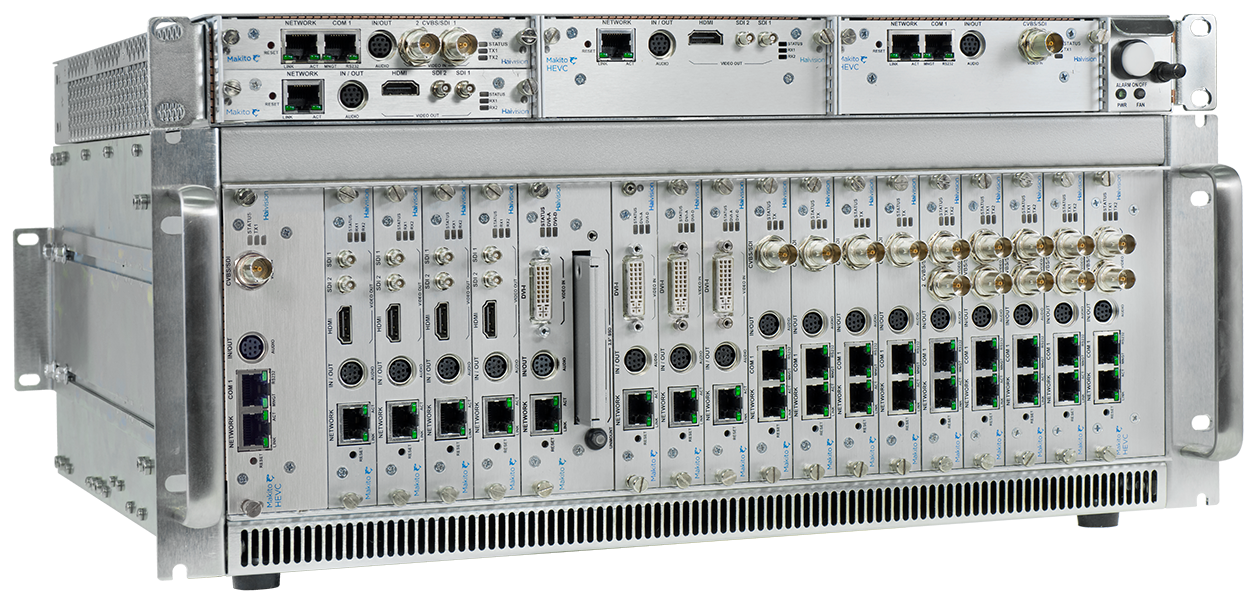 HIGH DENSITY MULTICHANNEL CHASSIS
Flexible and scalable solutions for high density deployment
Haivision's encoders, decoders, and gateways are available as single product appliances or as independent mini-blades. For installations where rack mounting is desired, Haivision offers the MB6 and MB21 enclosures, which can contain up to 6 or 21 encoder/decoder/gateway blades, respectively, within the single highest density platform available.
MB series enclosures feature redundant power supplies, allow for in-service blade replacement and incorporate fan management circuitry to minimize fan noise. MB series enclosures can be populated with various combinations of Haivision's Makito high performance, HEVC or H.264 encoder, the HEVC or H.264 Makito decoder, and Haivision's Torpedo DVB to IP gateways.
High density
Up to 6 channels in a 1RU or 21 channels in a 4RU
Supports Multiple Products Simultaneously
Makito encoders, Makito decoders and Torpedo DVB to IP gateways
Redundant Power Supplies
In service maintenance to minimize downtime
Failure Alert
Audible fan failure alarm on the MB6 and MB21
Fan-management Circuitry
Minimize fan noise
Station Alarm Interface
Signals to rack or station alarm controllers a fault condition with the MB21X
MB6 Six Slot Chassis
The MB6 is designed to support fast deployments of Haivision's marketleading encoding/decoding systems in the most space constrained installations. The six slot chassis can hold up to 6 Makito and Makito X encoders/decoders or Torpedo DVB to IP gateways, in just a single rack unit (1 RU), making it the highest density system available. The MB6 is available with either redundant AC, single DC, or medical grade AC power supplies.
MB21 Twenty One Slot Chassis
Designed for high density IP video headends, the MB21 holds any combination of up to 21 Makito, or Torpedo products in a 7-inch rack (4 RU) and also features fully redundant power supplies. This high density, cost effective solution has been deployed in headends and server rooms in universities, hospitals, and enterprises worldwide. The Makito X blade only variant of the MB21 (F-MB21X-R) features replaceable fans and fully redundant power supplies. In addition, the MB21X provides a station alarm interface so as to notify operators when a power supply or fan failure has occurred.
Redundancy
Redundant AC inputs and a field serviceable power supply allows the MB21 to continue operating even if an AC input is lost or a Power Supply Unit (PSU) fails. With the MB21B quad PSU variation, the unit can lose up to two power supplies and remain operational, while the MB21X dual PSU variant can remain fully operational if a single power supply has failed. With the MB6X-RAC, a single AC input or PSU can fail without affecting the operation of the unit.
Ready for a demo, or want to get more information about Haivision products and services?