Broadcasters! Tell Us What You Think in Our Broadcast Survey
We're very excited to announce the launch of our fourth Broadcast survey!
Every year, Haivision reaches out to you in the broadcast, media, and entertainment industry to get your thoughts on the past year, as well as your views on the technologies driving the future of broadcasting. All it takes is 10 minutes to answer the survey which features a few short questions on the technologies you currently employ, the challenges you face, and what you think the future has in store for broadcast.
Here are the key highlights from last year's survey: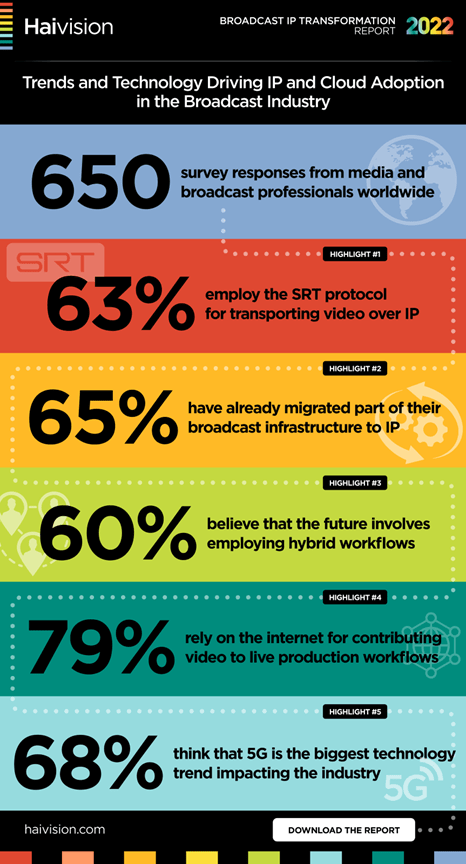 Broadcasters want to be heard: Last year, over 650 worldwide media and broadcast professionals let their opinions on the state of the industry known by responding to the survey.
SRT dominates: SRT, the Secure Reliable Transport open-source protocol, originally designed by Haivision to optimize streaming performance across unpredictable networks like the internet, is now being deployed by 63% of broadcasters.
IP becomes a key part of broadcast infrastructures: While the full adoption of IP-based technology was low, 65% of broadcasters say they have employed a hybrid infrastructure that includes both SDI and IP technology.
The rise of hybrid workflows: 60% of broadcasters who participated in the survey believe that the future of the workforce involves a hybrid model, a trend that carried over from the year before. With things "normalizing" globally, will this number stand this year?
Broadcasters trust the internet: When it comes to video contribution for live production workflows, an overwhelming amount of broadcasters said they're leveraging the internet.
5G has arrived: 68% of respondents feel that 5G is the biggest technology trend impacting the broadcast industry and the need to adopt video transmitters and mobile encoders for video contribution over cellular networks may be on the rise.
Want to Learn More?
You can read last year's survey here, or read more about our take on the findings in our broadcast report blog series.