Celebration Church opens its doors to the world with engaging video experiences.
Challenge
With a large global reach, picking the best video streaming solution was essential. Not only does a live stream showcase the experience, but most newcomers will watch services online, more than five times, before actually visiting the church. Thus, it was important to have a good solution to deliver high-quality, low-latency streams throughout the world.
Alongside their online audience, Celebration Church has its main campus in Austin, Texas. This massive campus spans two buildings of 50,000 to 90,000 square feet each and with an average on premise attendance size of 4,500 people. In addition, Celebration has a global outreach with 13 campuses in Africa and one campus in Italy.
As a multinational church, Celebration required a solution that would unite its many campuses together, delivering the same message and worship experiences to all members no matter their location in the world.
"Our live stream is our front door so it is important we offer the best viewing, every time. Haivision solutions help us deliver an engaging worship experience across our ministry – online, at our main location and to our international campuses."
Creating engaging worship experiences online and at church locations
With a goal to reach and unite people worldwide, Celebration Church initially turned to Haivision's internet streaming solution – the Haivision Video Cloud – to help deliver high-quality and reliable live streams across its campuses and online.
Quickly realizing the power of video, Celebration leveraged other Haivision solutions, including the multi-site streaming Haivision Connect DVR solutions and the Haivision digital signage system, to centralize and deliver multiple channels and content from the main campus to multi-site locations, the web and on social media. Considering the immense area of the Austin campus, the Haivision solution also allows Celebration to deliver diverse content to multiple zones across each building.
With Haivision's Connect DVR multi-site streaming, all locations can easily join the main campus teachings with live interactive or time-delayed streams of weekly services, monthly staff meetings, weekly team meetings, small group leadership and live stream conferences.
Solution components
Related stories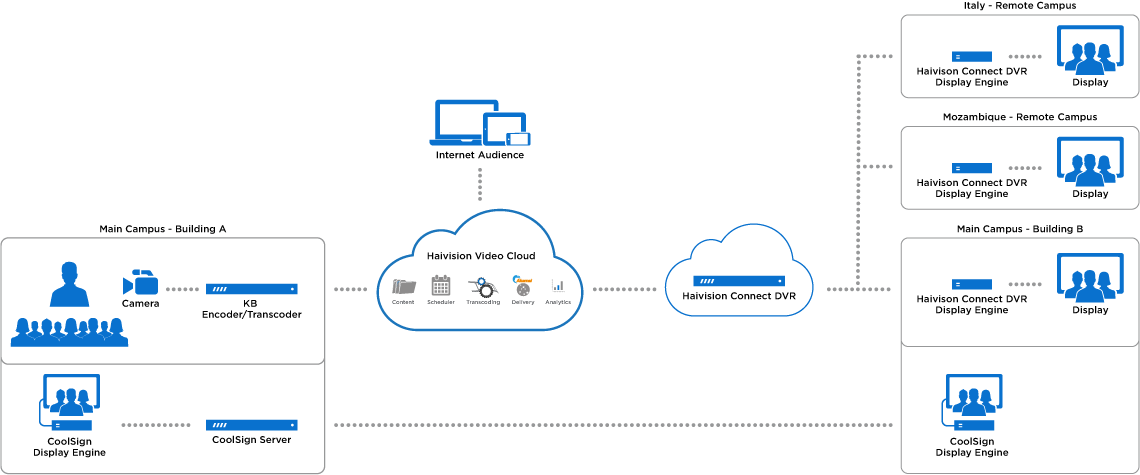 Results
Now with the right tools to communicate and share the message, the multi-site ministry can continue growing its congregation and global reach with engaging worship experiences. Broadcasting more than six hours of service to over a thousand viewers online each week, Celebration helps its members worldwide and remote pastors feel more connected.
Operated by only two people, Haivision's easy-to-use video solution has made it possible for Celebration to run the system without recruiting an army of people. It has also enabled even the non technically minded staff to use the system.
With Haivision, Celebration Church can now successfully use many digital mediums – social media, digital signage, and video streaming – to extend their ministry and share their message with engaging worship experiences at their main location, remote campuses and across the world online.
"Our services are where we come together. The reliability and high-quality of Haivision's video solutions ensures our members can join and enjoy the same experience regardless of their location."