Makito X HEVC
Compact, High Performance HEVC + H.264 Encoder
EXTREMELY LOW BITRATE
Makito X HEVC video encoder transports secure, high quality, live HEVC/H.265 and AVC/H.264 video over any network at extremely low bit rates.
It is the ideal encoder for broadcasters and defense organizations for live, interactive and bandwidth constrained backhaul and distribution applications.
HEVC + H.264
Video over any network
Makito X HEVC can reduce bandwidth requirements by 50%, while maintaining video quality when compared to H.264 encoders.
The Makito X HEVC differs from competing HEVC encoders by combining the existing four engine H.264 architecture found in the Makito X while adding a dedicated HEVC encoding engine to the appliance.
Makito X HEVC supports existing H.264 workflows, and offers the best-in-class HEVC performance, future proofing your video streaming workflows.
NETWORK ADAPTIVE ENCODING
Encoding that adapts to your network conditions
Makito X offers advanced technology called network adaptive encoding that can adjust video bitrate based on your network conditions, helping ensure that your video stream never fails, even when encountering significant bandwidth fluctuations. When network adaptive encoding is enabled, the Makito X encoder detects if your bandwidth is choked and automatically lowers the video bitrate to provide the best quality stream for the given network conditions. As bandwidth returns to the expected level, the Makito X dynamically adjusts the encoded video bitrate back up to the specified setting.
Leveraging the power and intelligence of the SRT protocol, the Makito X encoder, with network adaptive encoding, lets you stream from any location over any network, with the peace of mind that your video will continue performing no matter what happens.
Makito X: Low Latency
Learn how the Makito X encoder delivers the lowest latency video possible.
Makito X: SRT
Learn why SRT is your go-to streaming protocol.
Makito X: Network Adaptative Encoding
Learn how the Makito X encoder uses available bandwidth to maximize your video quality.
Makito X: Multi-Bitrate Streaming
Learn how the Makito X can facilitate video streaming using different bitrates and protocols.
Makito X: Form Factors
Learn about the different form factors of the Makito X and how they address different challenges.
Makito X: Audio Talkback
Learn how the Makito X encoder and decoder pair can provide bi-directional communication in low latency workflows.
Makito X: Unboxing
Get a hands-on overview of the unboxing experience of Haivision's Makito X Encoder.
REDUCE OPEX
Transmit video over
the public internet.
Haivision's SRT network protocol features packet loss recovery, encryption, real time end-to-end network statistics, options to easily manage firewall traversal and more, for the highest quality live video over any network.
HEVC reduces Operating Expenses (OPEX) in your live broadcast workflows by reducing bandwidth requirements.
Further OPEX savings are possible by leveraging SRT to transmit video streams over less expensive connections such as the public internet.
KLV /STANAG METADATA
Aggregate metadata from many
sensors and sources
Makito X HEVC encoder is ideal for full-motion video (FMV) applications requiring STANAG and MISP compliant Key-Length-Value (KLV) metadata.
Capable of aggregating metadata from many sensors and sources, the Makito X HEVC fuels downstream networks, exploitation systems, and viewers, with frame accurate synchronization.
Makito X HEVC is designed for ISR applications where uplink network bandwidth is limited and costly.
Increases in compression efficiency impact mission intelligence thanks to increases in quality per bit of video data.
COMPACT APPLIANCE, BLADE OR HIGH DENSITY
---
The Makito X HEVC is a compact, lightweight appliance with a highly efficient hardware architecture. It's form factor is excellent for space constrained applications or in remote contribution workflows.
The Makito X HEVC is also available in blade format, compatible with Havision's MB6 (1RU) and MB21 (4RU) chassis, making it a great fit for server rooms and headends.

CENTRALIZED MANAGEMENT
An intuitive web-based interface enables systems administrators and users to configure and manage a Makito X HEVC Video Encoder from anywhere. For managing multiple Makito X encoders and decoders, the Haivision EMS element management system can be used to organize and group devices with custom tags, monitor their status in real time, and perform firmware upgrades from a central location.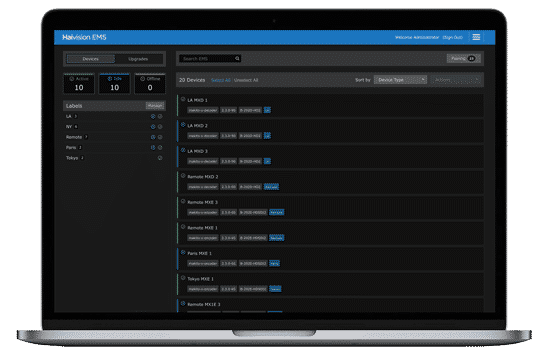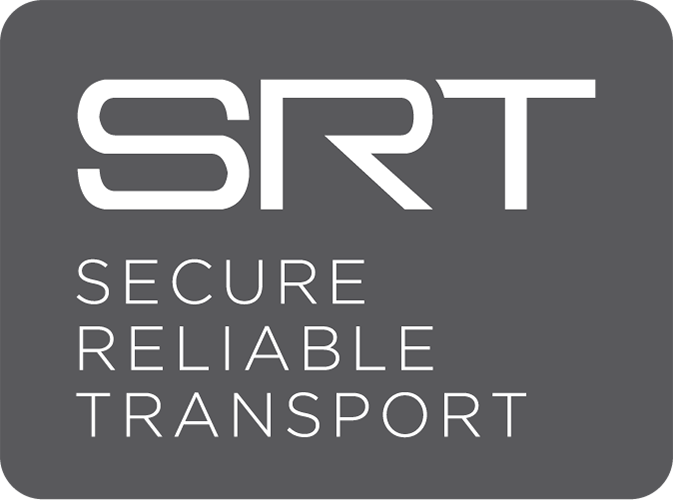 POWERED BY SRT
Secure Reliable Transport
Haivision's SRT (Secure Reliable Transport) is a video streaming technology that brings the best quality live video over the worst networks.
It accounts for packet loss, jitter, and fluctuating bandwidth, maintaining the integrity and quality of your video.
With SRT, you can keep your streams secure and easily traverse firewalls. SRT is included with all Haivision streaming solutions.
Makito X Series Guide & Datasheet
Schematic