Kraken
High Performance Transcoding
LIVE VIDEO TRANSCODING
The Kraken™ transcoder is designed for high performance live video transcoding, taming mission-critical video streams for satellite backhaul via constrained datalinks, enterprise distribution, and delivery to mobile devices.
For end-to-end real-time delivery of video from diverse video sources, datalinks and distribution networks, the Kraken offers extremely low latency and superior video quality at low bitrates.
High Quality, Low Bandwidth
DVB Stream Distribution
The seamless and secure distribution of digital video broadcast (DVB) streams can be challenging as enterprise networks can get congested and are not designed to accommodate high bandwidth and highly volatile streams.
The Kraken prepares DVB streams and enables a secure multicast framework by standardizing diverse streams sourced from various encoders. For stream distribution on networks connecting devices of disparate capabilities, the Kraken maintains high video quality while minimizing bandwidth consumption.
HEVC LIVE STREAMING
Using less bandwidth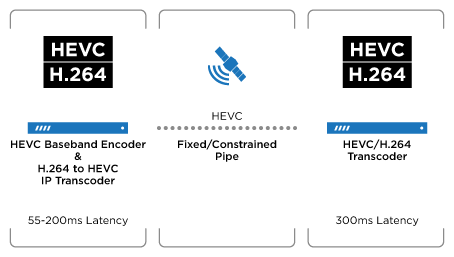 Designed for ISR and video backhaul contribution, Haivision's HEVC solution empowers organizations to send high quality video using low-capacity networks.
Haivision enables live HEVC baseband encoding and H.264 to HEVC or HEVC to H.264 transcoding for transporting higher quality video using less bandwidth.
REDISTRIBUTE VIDEO
To multiple devices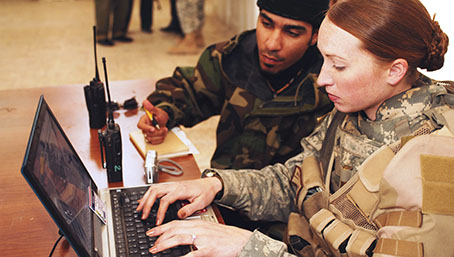 Within the enterprise, the Kraken transcoder redistributes high bandwidth digital video broadcasts over local area networks for viewing on desktops and set-top boxes.
For military intelligence, surveillance, and reconnaissance (ISR) full motion video (FMV) applications, the Kraken provides low latency transcoding for metadata-rich airborne and ground applications, delivering video to multiple devices at any point in the DoD ISR FMV architecture.
KRAKEN & HEVC WORKFLOW
Higher quality, lower bandwidth
Kraken HEVC transcoding allows you to deliver substantially increased video quality over satellite and other constrained networks (typically in the 1 Mbps to 3 Mbps bandwidth range). Kraken receives high bitrate H.264 streams, which it then converts to HEVC for transport, and reconverts from HEVC to H.264 for onward distribution through less constrained ecosystems. Kraken HEVC transcoding reduces up to 50% of bandwidth compared to H.264 while maintaining high picture quality.
COMPACT HEVC APPLIANCE
For space constrained ISR applications
Kraken HEVC maximizes satellite and other constrained network uplinks for full HD video. Featuring less than 0.5 seconds of latency and optimized for 720p/1080p applications, the Kraken HEVC transcoder is available on a compact server appliance designed for power and space constrained applications such as satellite trucks.
Ready for a demo, or want to get more information about Haivision products and services?