Haivision and Nokia OZO Help You Deliver Amazing 360-Degree VR Experiences!
It's always a pleasure to partner up with amazing companies, and we're doing it again!\
With our new partnership with Nokia OZO, we're helping people to create unforgettable live Virtual Reality (VR) 360-degree streaming experiences for internet audiences!
Live VR 360 streaming video experiences are being embraced by content producers and audiences alike — all over the world. As with everything that means great Internet content, there are no geographical boundaries, and no limit to the reach that you can achieve with an awesome streaming experience. It's all up to you!
So, let's take a look at how Haivision and Nokia OZO are going to help you to bring those amazing experiences to your online audience. We'll also take a look at how our partnerships have already brought some innovative live VR 360-degree streams that were exciting, engaging, and remarkably easy to set up.
Hang on a sec, you know about 360-degree VR, right?
Before we go any further, maybe we should explain 360-degree VR streams for those of you who might not be familiar. The technology is, after all, relatively new, even in terms of Internet time.
The folks over at TechTarget describe VR 360 as, "An audiovisual simulation of an altered, augmented or substituted environment that surrounds the user, allowing them to look around them in all directions, just as they can in real life."
So, VR 360 isn't actually virtual reality in the way one might think of it, but it is an immersive experience that gives viewers the ability to see everything in 360-degrees, the way you could if you were actually there. Slap on some Google Cardboard, and you may find yourself feeling as though you're right there in the action as it's happening.
Pretty cool.
What is Nokia OZO, and what will it do for you?
There was a time when 360-degree video required multiple camera rigs. Today, companies like Nokia are changing the way we produce 360-degree VR experiences with cameras like the Nokia OZO.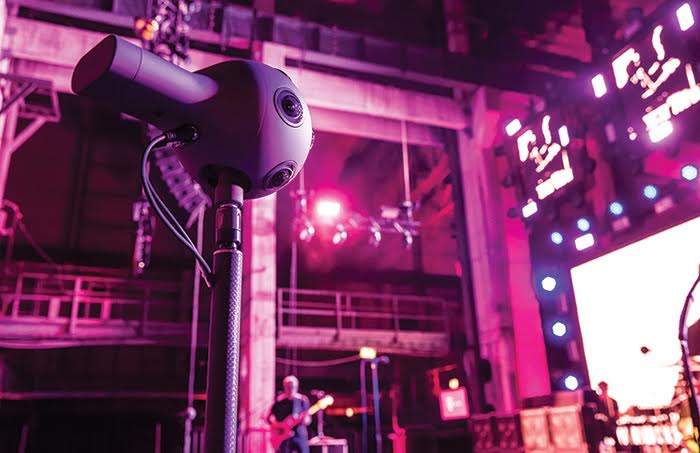 This camera captures 360-degree video as well as 360×360 surround sound, which creates a completely immersive experience. Previously, one might have multiple files to deal with in order to broadcast a VR 360 event, but with Nokia OZO, there is just one file to manage. Information from eight video sensors and eight audio sensors are parsed within the device, and sent through the cable.
The camera records everything at 30fps, allowing you to deliver 4K video to your viewers. So, you've got a camera with ease-of-use built right into its design, saving you tons of setup time, and also a high-quality output stream that will allow you to dazzle your viewers.
You can see why it was such an easy decision for us to go forward with this partnership, and we really hope to see a lot more great streams from all of you very soon!
How the KB 4K makes streams spectacular
For those of you who have been involved in the production of 360-degree VR streams in the past, you know that there can be a LOT of time spent setting up all the pieces in the workflow to get ready for broadcast.
This is where the KB 4K comes in.
The setup time on the KB 4K is very minimal. Just set your preferences, and you're off! Provided that you are able to run your cables quickly, you could literally show up to an event and get set up and ready to go in less time than you're possibly used to.
The KB 4K supports (surprise, surprise) up to 4K encoding, and boasts the best in video compression, allowing you to choose from either HEVC/H.265 or H.264, depending on what your requirements and bandwidth availability are.
It's powered by the Intel® Xeon® Processor E3 Family with Intel® Iris™ Pro Graphics P6300. We were able to take advantage of Intel's solutions with integrated CPU and graphics to speed up transcoding.
The KB will use up to 50% less bandwidth than H.264, giving you reliable live video transport right from the source, which means that you'll be building a solid transmission foundation.
The proof is in the putting it online
They say the proof is in the pudding. We say the proof is in the putting it online! If you'll forgive the horrible pun, we've done just that along with Nokia OZO, and to great effect.
The first time out of the gate, we helped to power a live Red Hot Chili Peppers concert in Germany for Deutsche Telekom's Street Gigs. The whole thing started with interviews with the band, and ended up giving viewers a chance to feel like they were right there in the crowd with everyone else. Given how much the band moves around the stage, the 360-degree VR experience was well planned!
We also helped deliver a 360-degree VR live stream at the CMA Awards Red Carpet presentation along with Nokia OZO. You can see a recording of the event below, and the great quality that viewers were able to see online in real time. Video link.
And, of course, this is just the beginning!
Now you know what's going on, so what's next?
Ready to get started? You know how powerful 360-degree VR experiences can be, and we'd like to help you get the best content to your viewers along with Nokia OZO.
We have a limited-time offer for those of you who are chompin' at the proverbial bit in the form of a discount of $5,000! Even if you're not ready to buy just yet, register for the discount, and we'll tell you more about how Haivision and Nokia can help you deliver amazing 360-degree VR experiences to your audience.